African geological and mineral information system(GMIS) strategy: promoting geological knowledge as a tool for investment and transparency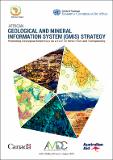 Published
2017
Author(s)/Corporate Author (s)
United Nations. Economic Commission for Africa. Special Initiatives Division. African Minerals Development Center;
African Union Commission;

Abstract
The Geological and Mineral Information System (GMIS) Strategy has been produced by the African Mineral Development Center (AMDC) to facilitate the strengthening of the African production, management and dissemination of geological and mineral information necessary for several important legal, economic, social and environmental applications. The AMDC led development of the GMIS Strategy as part of its mission to implement the African Mining Vision (AMV), which sets out how mining can be used to drive continental development. Development of the Strategy was highly collaborative, and represents the first time that so many stakeholders in geological information at national, regional and continental level have come together to produce a Pan-African strategy.
Citation
"United Nations. Economic Commission for Africa. Special Initiatives Division. African Minerals Development Center; African Union Commission (2017). African geological and mineral information system(GMIS) strategy: promoting geological knowledge as a tool for investment and transparency. Addis Ababa. © UN. ECA. "
Collections
Related items
Showing items related by title, author, creator and subject.