Africa mining vision: African minerals governance framework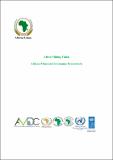 Published
2018-01
Author(s)/Corporate Author (s)
United Nations. Economic Commission for Africa. Special Initiatives Division. African Minerals Development Center;
African Union Commission;
United Nations Environment Programme;
African Development Bank;

Abstract
The African Union heads of state and government adopted the Africa mining vision to serve as Africa's road map for strategically harnessing its mineral resources for broad-based sustainable development. The formulation of the vision, supported by its action plan for implementation, was motivated by a disconcerting observation that, while African countries have abundant mineral resources and roughly one third of global mineral reserves, they rank among the poorest in the world. Many internal and external factors contribute to this situation. These factors inhibit African countries from benefiting optimally from their mineral resources. Mineral resources are finite and, therefore, need managing in a manner that benefits current and future generations. The Africa mining vision is intended to enhance transparency, equity and the optimal development of mineral resources to underpin broad-based sustainable growth and socioeconomic development in Africa. It also promotes a sustainable and well governed minerals sector that garners and deploys resource rents effectively and that is safe, healthy, gender and ethnically inclusive, environmentally friendly, socially responsible and appreciated by mine-affected communities.
Citation
"United Nations. Economic Commission for Africa. Special Initiatives Division. African Minerals Development Center; African Union Commission; United Nations Environment Programme; African Development Bank (2018-01). Africa mining vision: African minerals governance framework. Addis Ababa. © UN. ECA. "
Collections
Related items
Showing items related by title, author, creator and subject.