Desktop review of African geological survey organization capacities and gaps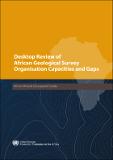 Published
2018-03
Author(s)/Corporate Author (s)
United Nations. Economic Commission for Africa. Special Initiatives Division. African Minerals Development Center;

Abstract
The African Minerals Development Centre (AMDC) is implementing the Africa Mining Vision (AMV), which was adopted by African heads of state at the twelfth ordinary session of the assembly of the African Union, in February 2009. The geological and mining information system is a key cluster of the action plan for the implementation of AMV (2012). Geological survey organizations (GSOs) in Africa are important to the success of AMV and any work on geological information. As such, this report aims to make an initial assessment of the capacity of African GSOs relative to the geological information needs of each country and identify some next steps for AMDC and its partners to take to address gaps. The report and its findings are based on a literature review of existing capacity assessments of African GSOs and a desktop gap analysis of geological information needs relative to the information available from African GSOs. This review of capacities and gap analysis is based on a desktop study of existing literature on the status of 50 GSOs found across 54 countries in Africa coupled with indicators drawn from international sources. The review is one of several inputs that will feed into the development of AMDC strategy for improving African GSO capacities to embark on exploration activities, which will identify entry points for AMDC to engage in this area with stakeholders and partners.
Citation
"United Nations. Economic Commission for Africa. Special Initiatives Division. African Minerals Development Center (2018-03). Desktop review of African geological survey organization capacities and gaps. Addis Ababa. © UN. ECA. "
Collections
Related items
Showing items related by title, author, creator and subject.