Assessment of mineral regimes in the East African community : aligning frameworks with the African mining vision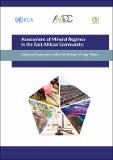 Published
2017-01
Author(s)/Corporate Author (s)
United Nations. Economic Commission for Africa. Special Initiatives Division. African Minerals Development Center;
African Union Commission;

Abstract
The African Minerals Development Center commissioned this study, with the objective of reviewing the policy and regulatory frameworks of the five East African countries (Burundi, Kenya, Rwanda, Uganda and the United Republic of Tanzania) for alignment with the Africa Mining Vision. In particular, the study seeks to assess the extent to which these countries' policy and regulatory frameworks have accommodated and enabled the implementation of the development objectives of the Africa Mining Vision, including the extent to which these frameworks have enabled the utilization of mineral resources to underpin broad-based sustainable growth and socio economic development. The study also evaluated the extent to which these policy and regulatory frameworks have facilitated the attainment of the Vision's principal goals, which include: fostering a transparent and accountable mineral sector promoting good governance in the mineral sector; improving knowledge and optimizing the benefits of mineral resource endowments; developing linkages and using them to support economic diversification; harnessing the potential of small-scale mining.
Citation
"United Nations. Economic Commission for Africa. Special Initiatives Division. African Minerals Development Center; African Union Commission (2017-01). Assessment of mineral regimes in the East African community : aligning frameworks with the African mining vision. Addis Ababa:. © UN. ECA,. "
Collections
Related items
Showing items related by title, author, creator and subject.