Africa senior media dialogue 2017: "the role of media in Africa's development, women's empowerment and its support for Agenda 2063"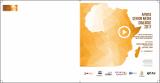 Published
2017-11
Author(s)/Corporate Author (s)
United Nations. Economic Commission for Africa;
United Nations Educational, Scientific and Cultural Organization;
African Union Commission;

Abstract
Media can play a central role in the promotion of a new narrative among the widest audience possible, by reflecting the transformative trend of the continent, by educating, raising awareness and ownership of the Agenda 2063. The first Africa Senior Media Dialogue was held in The Vaal, South Africa, on 19th and 20th February 2009 and was organized by the Advocacy and Communication Cluster of the Regional Coordination Mechanism for Africa. It resulted in The Vaal Consensus and the adoption of a series of recommendations. The deliberations at The Vaal underscored the increasing role of the media in Africa's development and media's eagerness to expand coverage and provide a more balanced reporting on development issues and African affairs in general. This forum also identified some of the general challenges faced by African media, which could explain the weak presence of the AU in the media. These include: lack of physical resources and specialized reporters on Africa, lack of access to free information, problems of understanding key and technical words and the Regional Economic Communities (REC's) tendency to prefer foreign media. In the Vaal, it was also established that the forum should be held every two years so that one can measure the improvements made on mutual commitments from the media on one side and the UN and the AU on the other side.
Citation
"United Nations. Economic Commission for Africa; United Nations Educational, Scientific and Cultural Organization; African Union Commission (2017-11). Africa senior media dialogue 2017: "the role of media in Africa's development, women's empowerment and its support for Agenda 2063". Addis Ababa. © UN. ECA. "
Collections
Related items
Showing items related by title, author, creator and subject.