ECA social media policy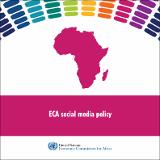 Published
2016
Author(s)/Corporate Author (s)
United Nations. Economic Commission for Africa;

Abstract
The emergence of new means of information sharing has massively changed the communication landscape. With the inception of social media as a robust entity of new media, the entire notion and significance of communication has changed drastically. Governments and organizations across the globe employ social media networks such as Facebook, Twitter and Instagram in a bid to engage with clients and citizens in an efficient and cost-effective manner. The ICT strategy of ECA alludes to the importance of social media as a "non-linear" mode of interaction between ECA staff and stresses the importance of unstructured data generated through social media in the arena of big data analysis. The present document serves as a guideline for social media managers using, managing and maintaining official social media accounts.
Citation
"United Nations. Economic Commission for Africa (2016). ECA social media policy. Addis Ababa,. © UN. ECA:. "
Collections
Related items
Showing items related by title, author, creator and subject.