Quality assurance procedures: ECA publications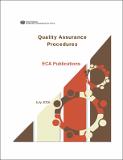 Published
2016-07
Author(s)/Corporate Author (s)
United Nations. Economic Commission for Africa;

Abstract
This document describes the quality assurance procedures for ECA publications and documents in detail in accordance with the conceptual framework of the commission's quality assurance manual. The document defines the products to be reviewed and introduces existing organizational guidelines, mandates and documents to guide the quality process. It also presents the specific checklists to be used both for self-assurance and for assessing the quality of the final product.
Citation
"United Nations. Economic Commission for Africa (2016-07). Quality assurance procedures: ECA publications. Addis Ababa:. © UN. ECA,. "
Related items
Showing items related by title, author, creator and subject.