Country profile Cabo Verde 2016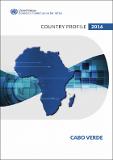 Published
2017-03
Author(s)/Corporate Author (s)
United Nations. Economic Commission for Africa;

Abstract
Cabo Verde had been experiencing weakened growth since 2009, except for 2011, owing to the deteriorating external economic environment, with delayed effects of the 2008-2009 global financial and economic crisis and fiscal tightening in the euro zone and USA. Under the combined effects of a dire external situation, a slowdown in public investments and foreign direct investments, a drop in remittance transfers from Cabo Verdeans abroad, and official development assistance, economic growth stood at 1.5 per cent in 2015, down from 1.9 per cent in 2014. The top sectors that drove the gross domestic product (GDP) in 2015 were tourism (22.0 per cent), trade (11.0 per cent), building construction (8.4 per cent) and transport, especially by air (10.0 per cent). In terms of public finance management, the overall budget deficit contracted gradually down to 3.8 per cent of GDP, from 7.3 per cent in 2014, owing largely to containment of operating expenditure and a drop in public investment spending. With respect to subregional integration, the performance of Cabo Verde has been less than sterling, owing to ethno-linguistic and historical factors, the fact that it is an island, and also the poor potential for foreign trade. Cabo Verde ranks tenth out of the 15 member countries of Economic Community of West African States (ECOWAS) on the integration table.
Citation
"United Nations. Economic Commission for Africa (2017-03). Country profile Cabo Verde 2016. Addis Ababa:. © UN. ECA,. "
Related items
Showing items related by title, author, creator and subject.
Informality and inequality in Africa: exploring the linkages

United Nations. Economic and Social Council; United Nations. Economic Commission for Africa

"United Nations. Economic and Social Council; United Nations. Economic Commission for Africa (2017-09). Informality and inequality in Africa: exploring the linkages. UN. ECA Committee on Gender and Social Development(2nd session:2017, Oct. 11 - 12: Addis Ababa, Ethiopia). Addis Ababa. © UN. ECA. "

Objectifs stratégiques pour le développement socio-économique de l'Afrique dans les années 90

Nations Unies. Commission Economique pour l'Afrique; Nations Unies. Conseil Economique et Social

"Nations Unies. Commission Economique pour l'Afrique; Nations Unies. Conseil Economique et Social (1993-02). Objectifs stratégiques pour le développement socio-économique de l'Afrique dans les années 90. NU. CEA Réunion du Comité Technique Préparatoire Plénier (14ème : 1993, avr. 26 - 30 Addis Abeba, Ethiopie).; NU. CEA Conférence des ministres (19ème : 1993, mai 03 - 06 : Addis Abeba, Ethiopie).; NU. CEA Réunion de la conférence des ministres (20ème session de la commission : 1993, mai 03 - 06 : Addis Abeba, Ethiopie). Addis Abeba :. © NU. CEA,. http://hdl.handle.net/10855/6254"