Quality assurance procedures: measuring carbon footprint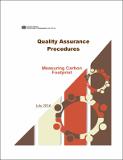 Published
2016-07
Author(s)/Corporate Author (s)
United Nations. Economic Commission for Africa;

Abstract
This document is designed to provide a set of step-by-step instructions and methods which help to ensure that ECA's carbon accounting and reporting processes and procedures meet acceptable standards. The development and use of these procedures will also facilitate evidence based decision-making and continual improvement. The document introduces the existing organizational guidelines, mandates and documents to guide the quality assurance process. It also explains the specific templates and checklists to be used by the responsible program managers or focal points at each step of the process: Entry, Implementation, Exit and Lessons Learned.
Citation
"United Nations. Economic Commission for Africa (2016-07). Quality assurance procedures: measuring carbon footprint. Addis Ababa:. © UN. ECA,. "
Related items
Showing items related by title, author, creator and subject.
Procédures d'assurance qualité: mesure de l'empreinte carbone

Nations Unies. Commission Economique pour l'Afrique; Nations Unies. Commission Economique pour l'Afrique

"Nations Unies. Commission Economique pour l'Afrique; Nations Unies. Commission Economique pour l'Afrique (2016-07). Procédures d'assurance qualité: mesure de l'empreinte carbone. Addis Abeba:. © NU. CEA,. "

2020 programme plan and budget:Note by the secretariat

United Nations. Economic Commission for Africa

"United Nations. Economic Commission for Africa (2019-03). 2020 programme plan and budget:Note by the secretariat. UN. ECA Committee of Experts of the Conference of African Ministers of Finance, Planning and Economic Development Meeting(38th :2019, Mar. 20 - 22 :Marrakech, Morocco). Addis Ababa. © UN.ECA. "