Climate change and agricultural adaptation measures in the transition zone of mid-Ghana: final research report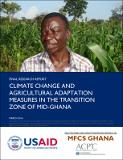 Published
2014-03
Author(s)/Corporate Author (s)
United Nations. Economic Commission for Africa;

Abstract
Agriculture remains the main source of livelihood for a significant majority of the rural population in Ghana. The majority of agricultural producers are smallholders with rain-fed crops that are highly vulnerable to changes in climate. Faced with increasing pressure on their agricultural livelihoods, local farmers have adopted a number of coping and adaptation strategies. Diversification techniques within agriculture, including on-farm practices such as planting different crops, differently located farm types, intercropping, animal husbandry, and hunting and gathering, have helped local farmsteads to adapt to a difficult environment. However, many of the adaptation practices that have emerged as a result of climate change are mostly untested and may not be effective for all farmers and in all situations. Therefore, the aim of this study was to analyze the adaptation practices developed by local communities in order to identify the most successful practices that improve smallholder crop producers' resilience to climate change. Recognizing the important role that smallholder agriculture plays not only for the resident population in the Transition Zone, but also for a significant proportion of the country's population, this study seeks shed light on how food security and sustainable livelihoods are impacted by climate change.
Citation
"United Nations. Economic Commission for Africa (2014-03). Climate change and agricultural adaptation measures in the transition zone of mid-Ghana: final research report. Addis Ababa. © UN. ECA. "
Related items
Showing items related by title, author, creator and subject.