Annual report 2016: official records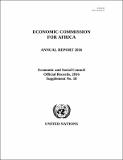 Published
2016
Author(s)/Corporate Author (s)
United Nations. Economic Commission for Africa;

Abstract
The report was adopted at the commission's forty-ninth session, which was held as part of the ninth joint annual meetings of the African Union specialized technical committee on finance, monetary affairs, economic planning and integration and the economic commission for Africa conference of African ministers of finance, planning and economic development. The commission deliberated and made a number of recommendations on the theme of the ninth joint annual meetings, "Towards an integrated and coherent approach to the implementation, monitoring and evaluation of agenda 2063 and the sustainable development goals". The discussions and recommendations focused on the implications of adopting the 2030 agenda for sustainable development and domesticating agenda 2063 and its first 10-year implementation plan; the development of an integrated and coherent framework for monitoring and evaluating both agendas; and mainstreaming the 2030 agenda for sustainable development and agenda 2063 into national strategic frameworks, actions plans and programs. The commission also discussed a number of other issues of relevance for Africa's development as part of the expert and ministerial segments of the ninth joint annual meetings.
Citation
"United Nations. Economic Commission for Africa (2016). Annual report 2016: official records. Official records. supplement no. 18 (2016), vii, 61 p.. Addis Ababa. © UN. ECA. https://hdl.handle.net/10855/23275"
Serial Title
Official records
Related items
Showing items related by title, author, creator and subject.