Activités de l'Organisation Météorologique Mondiale en Afrique dans le domaine de l'assistance technique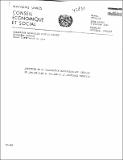 Published
1961-02
Author(s)/Corporate Author (s)
United Nations. Economic and Social Council;
Nations Unies. Commission Economique pour l'Afrique;

Abstract
Si l'on examine le programme mis en oeuvre par l'OMM au titre du PNAT, qui figure à l'annexe I du présent document, on constate qu'il fournit un certain nombre de bourses de perfectionnement à des pays nouvellement indépendants, à la demande de leurs gouvernements.
Citation
"United Nations. Economic and Social Council; Nations Unies. Commission Economique pour l'Afrique (1961-02). Activités de l'Organisation Météorologique Mondiale en Afrique dans le domaine de l'assistance technique. NU. CEA (3ème session : 1961, fév. 17).. Addis Ababa:. © UN. ECA,. https://hdl.handle.net/10855/6024"
Conference
NU. CEA (3ème session : 1961, fév. 17).
Related items
Showing items related by title, author, creator and subject.
Note conceptuelle: Comité intergouvernemental de hauts fonctionnaires et d'experts pour l'Afrique du Nord

Nations Unies. Commission Economique pour l'Afrique; Nations Unies. Commission économique pour l'Afrique. Bureau Sous-Régional pour l'Afrique de l'Ouest; Nations Unies. Commission économique pour l'Afrique. Bureau Sous-Régional pour l'Afrique du Nord

"Nations Unies. Commission Economique pour l'Afrique; Nations Unies. Commission économique pour l'Afrique. Bureau Sous-Régional pour l'Afrique de l'Ouest; Nations Unies. Commission économique pour l'Afrique. Bureau Sous-Régional pour l'Afrique du Nord (2022-08). Note conceptuelle: Comité intergouvernemental de hauts fonctionnaires et d'experts pour l'Afrique du Nord. NU. CEA Réunion du Comité intergouvernemental de hauts fonctionnaires et d'experts pour l'Afrique du Nord (1ère: 2022, 1-3 nov.: Marrakech, Maroc). Addis Abeba:. © NU. CEA,. https://hdl.handle.net/10855/49120"

Information society : regional dimensions Africa, Europe & North America, Latin America & Caribbean, Asia & Pacific, Western Asia.

United Nations. Economic Commission for Africa.; United Nations. Economic Commission for Latin America and the Caribbean; United Nations. Economic Commission for Latin America and the Caribbean; United Nations. Economic and Social Commission for Asia and the Pacific; United Nations. Economic and Social Commission for Western Asia

"United Nations. Economic Commission for Africa.; United Nations. Economic Commission for Latin America and the Caribbean; United Nations. Economic Commission for Latin America and the Caribbean; United Nations. Economic and Social Commission for Asia and the Pacific; United Nations. Economic and Social Commission for Western Asia (2003). Information society : regional dimensions Africa, Europe & North America, Latin America & Caribbean, Asia & Pacific, Western Asia.. World Summit on the Information Society (1st : 2003 : Geneva, Switzerland). Geneva :. © UN.ECA. https://hdl.handle.net/10855/41101"

Note conceptuelle: Atelier de partage de connaissances et de partenariat dans le cadre des forums régionaux sur l'évolution probable du climat

Nations Unies. Commission Economique pour l'Afrique; Nations Unies. Commission Economique pour l'Afrique. Division des initiatives spéciales. Centre africain pour les politiques en matière de climat; Nations Unies. Commission Economique pour l'Afrique; Nations Unies. Commission Economique pour l'Afrique. Division des initiatives spéciales. Centre africain pour les politiques en matière de climat

"Nations Unies. Commission Economique pour l'Afrique; Nations Unies. Commission Economique pour l'Afrique. Division des initiatives spéciales. Centre africain pour les politiques en matière de climat; Nations Unies. Commission Economique pour l'Afrique; Nations Unies. Commission Economique pour l'Afrique. Division des initiatives spéciales. Centre africain pour les politiques en matière de climat (2018-05). Note conceptuelle: Atelier de partage de connaissances et de partenariat dans le cadre des forums régionaux sur l'évolution probable du climat. NU. CEA Atelier de partage de connaissances et de partenariat dans le cadre des forums régionaux sur l'évolution probable du climat (2018, 13-14 mai.: Djibouti, Djibouti). Addis Abeba. © NU. CEA. https://hdl.handle.net/10855/24521"