Cancún and post-Cancún briefing papers on Africa and the Doha development agenda : the current state of play in the negotiations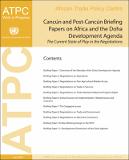 Published
2004
Author(s)/Corporate Author (s)
Mwalwanda, Cornelius;
Rodriguez, Virginia;
United Nations. Economic Commission for Africa;
United Nations. Economic Commission for Africa. African Trade Policy Centre;

Abstract
The multilateral trading system embodied in the World Trade Organization has contributed significantly to economic growth, development and employment throughout the past fifty years, particularly in the light of the global economic slowdown, to maintain the process of reform and liberalization of trade policies, thus insuring that the system plays its full part in promoting recovery, growth and development.
Citation
"Mwalwanda, Cornelius; Rodriguez, Virginia; United Nations. Economic Commission for Africa; United Nations. Economic Commission for Africa. African Trade Policy Centre (2004). Cancún and post-Cancún briefing papers on Africa and the Doha development agenda : the current state of play in the negotiations. Addis Ababa :. © UN. ECA,. https://hdl.handle.net/10855/5595"
Serial Title
ATPC work in progress; no. 3
Related items
Showing items related by title, author, creator and subject.
Report of the thirty-sixth session of the Intergovernmental Committee of Senior Officials and Experts for North Africa

United Nations. Economic Commission for Africa; United Nations. Economic Commission for Africa. Sub regional office for North Africa; United Nations. Economic Commission for Africa; United Nations. Economic Commission for Africa. Sub regional office for North Africa

"United Nations. Economic Commission for Africa; United Nations. Economic Commission for Africa. Sub regional office for North Africa; United Nations. Economic Commission for Africa; United Nations. Economic Commission for Africa. Sub regional office for North Africa (2021-12). Report of the thirty-sixth session of the Intergovernmental Committee of Senior Officials and Experts for North Africa. UN. ECA Intergovernmental Committee of Senior Officials and Experts for North Africa (36th sessions : 2021, Nov. 24 : Addia Ababa, Ethiopia). Addis Ababa :. © UN. ECA,. https://hdl.handle.net/10855/47917"

Concept note

United Nations. Economic Commission for Africa; United Nations. Economic Commission for Africa. Subregional Office West Africa (SRO-WA); United Nations. Economic Commission for Africa; United Nations. Economic Commission for Africa. Subregional Office West Africa (SRO-WA)

"United Nations. Economic Commission for Africa; United Nations. Economic Commission for Africa. Subregional Office West Africa (SRO-WA); United Nations. Economic Commission for Africa; United Nations. Economic Commission for Africa. Subregional Office West Africa (SRO-WA) (2022-08). Concept note. UN.ECA Intergovernmental Committee of Senior Officials and Experts for North Africa (1st Joint Session: 2022, Nov. 1-3: Marrakech, Morocco); UN.ECA Intergovernmental Committee of Senior Officials and Experts for West Africa (1st Joint Session: 2022, Nov. 1-3: Marrakech, Morocco). Addis Ababa :. © UN. ECA,. https://hdl.handle.net/10855/49128"