Economic and welfare impacts of the EU-Africa economic partnership agreements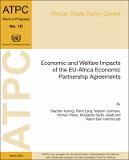 Published
2005-03
Author(s)/Corporate Author (s)
Karingi, Stephen N.;
United Nations. Economic Commission for Africa. African Trade Policy Centre;
United Nations. Economic Commission for Africa. Trade and Regional Integration Division;

Abstract
Th e Cotonou Partnership Agreement (CPA) between the European Union (EU) and African, Caribbean and Pacifi c (ACP) countries is expected to succeed the expired Lomé Agreement. It envisages the signing of Economic Partnership Agreements (EPAs) by December 2007 between the EU and the ACP countries. Th e EPAs, which will be the new cooperative framework under the CPA, are expected to adopt an integrated approach based on partnership, cooperation, trade and political dialogue between the EU and ACP countries. One of the essential characteristics of this multilateral partnership is that it hopes to combine responses to the challenge of globalization and the development aid essential to ACP countries; with a strengthened political dimension.
Citation
"Karingi, Stephen N.; United Nations. Economic Commission for Africa. African Trade Policy Centre; United Nations. Economic Commission for Africa. Trade and Regional Integration Division (2005-03). Economic and welfare impacts of the EU-Africa economic partnership agreements. ATPC work in progress;; No. 10. No. 10, xi, 88 p.:. Addis Ababa :. © UN. ECA,. https://hdl.handle.net/10855/5581"
Serial Title
ATPC work in progress; No. 10
Related items
Showing items related by title, author, creator and subject.
Impact of the economic community of West African States common external tariff and European Union Economic Partnership Agreements

United Nations. Economic Commission for Africa; United Nations. Economic Commission for Africa. Subregional Office West Africa (SRO-WA); United Nations. Economic Commission for Africa. Subregional Office West Africa (SRO-WA); United Nations. Economic Commission for Africa; United Nations. Economic Commission for Africa. Subregional Office West Africa (SRO-WA); United Nations. Economic Commission for Africa. Subregional Office West Africa (SRO-WA)

"United Nations. Economic Commission for Africa; United Nations. Economic Commission for Africa. Subregional Office West Africa (SRO-WA); United Nations. Economic Commission for Africa. Subregional Office West Africa (SRO-WA); United Nations. Economic Commission for Africa; United Nations. Economic Commission for Africa. Subregional Office West Africa (SRO-WA); United Nations. Economic Commission for Africa. Subregional Office West Africa (SRO-WA) (2017). Impact of the economic community of West African States common external tariff and European Union Economic Partnership Agreements. Addis Ababa. © UN.ECA. https://hdl.handle.net/10855/43873"

ECOWAS at 45: an assessment of progress towards regional integration in West Africa

United Nations. Economic Commission for Africa; United Nations. Economic Commission for Africa. Subregional Office West Africa (SRO-WA); United Nations. Economic Commission for Africa; United Nations. Economic Commission for Africa. Subregional Office West Africa (SRO-WA)

"United Nations. Economic Commission for Africa; United Nations. Economic Commission for Africa. Subregional Office West Africa (SRO-WA); United Nations. Economic Commission for Africa; United Nations. Economic Commission for Africa. Subregional Office West Africa (SRO-WA) (2016-06-28). ECOWAS at 45: an assessment of progress towards regional integration in West Africa. Addis Ababa. © UN.ECA. https://hdl.handle.net/10855/43624"

COVID-19 Crisis in North Africa: the Impact and Mitigation Responses

United Nations. Economic Commission for Africa; United Nations. Economic Commission for Africa. Subregional Office North Africa (SRO-NA); United Nations. Economic Commission for Africa; United Nations. Economic Commission for Africa. Subregional Office North Africa (SRO-NA)

"United Nations. Economic Commission for Africa; United Nations. Economic Commission for Africa. Subregional Office North Africa (SRO-NA); United Nations. Economic Commission for Africa; United Nations. Economic Commission for Africa. Subregional Office North Africa (SRO-NA) (2020). COVID-19 Crisis in North Africa: the Impact and Mitigation Responses. Addis Ababa. © UN. ECA. https://hdl.handle.net/10855/43762"