Gender and development in Southern Africa after the 1997 SADC gender declaration promoting gender equality in Southern Africa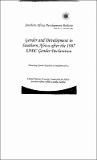 Published
2003-12
Author(s)/Corporate Author (s)
United Nations. Economic Commission for Africa. Southern Africa SubRegional Development Centre (ECA/SA-SRDC);

Abstract
Development has been defined as essentially process of allocating and utilizing resources for the social and economic benefit of society. It has, however, also been observed that this process is characterized by profound inequality, which results in the benefits of development skewed in favor of some groups and not others. The evidence overwhelmingly shows that one key group systematically excluded has been women, not only in southern Africa, but globally, resulting in uneven development. There is growing recognition at various key levels in southern Africa, as elsewhere, that society assigns certain characteristics and roles to men and women, and those attributed to men have been given greater value than those of women, thus creating power imbalances that disadvantage women. Positive steps to enable women to participate more fully in development are motivated by the need to ensure their full empowerment, premised on an egalitarian ethos that seeks to transform society. In sum therefore, action towards gender equality and equity is nothing short of action towards achieving democracy, justice and sustainable development. the objective of this Development Bulletin to document few of these efforts for the purpose of information sharing and enhancing linkages and synergies in the formulation and implementation of gender policies, projects and programs in Southern Africa.
Citation
"United Nations. Economic Commission for Africa. Southern Africa SubRegional Development Centre (ECA/SA-SRDC) (2003-12). Gender and development in Southern Africa after the 1997 SADC gender declaration promoting gender equality in Southern Africa. Southern Africa Development Bulletin. issue no. 13, 55 p.. Lusaka. © UN. ECA. https://hdl.handle.net/10855/5528"
Serial Title
Southern Africa Development Bulletin
Collections
Related items
Showing items related by title, author, creator and subject.