Sustainable agriculture and environmental rehabilitation programme (SAERP): statistical master-book on sectoral conditions and activities in the Amhara region state Volume II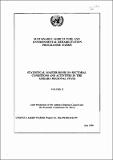 Published
1996-07
Author(s)/Corporate Author (s)
United Nations. Economic Commission for Africa;

Abstract
This paper contains 327 statistical tables on the socioeconomic situations of the Amhara Regional State. These tables provide valuable information on the climate and population as well as on the specific characteristics of every development sector in the Amhara Regional Government. The principal credit for preparing this document goes to Ato Wondemagegn Getachew of the Planning and Economic Bureau of the Amhara Regional state who served as a special resource person for UNECA's SAERP/WARDIS Programme. Ato Mulugetta Bezzabih and Ato Desta Asgedom of the SAERP/WARDIS Secretariate of UNECA have made several attempts to check the accuracy and consistency of the document. This document, it is hoped, will contribute to enhancing the planning capabilities of the Amhara Regional Government.
Citation
"United Nations. Economic Commission for Africa (1996-07). Sustainable agriculture and environmental rehabilitation programme (SAERP): statistical master-book on sectoral conditions and activities in the Amhara region state Volume II. Addis Ababa:. © UN.ECA,. https://hdl.handle.net/10855/4851"
Serial Title
v. II
Related items
Showing items related by title, author, creator and subject.
Impact of the economic community of West African States common external tariff and European Union Economic Partnership Agreements

United Nations. Economic Commission for Africa; United Nations. Economic Commission for Africa. Subregional Office West Africa (SRO-WA); United Nations. Economic Commission for Africa. Subregional Office West Africa (SRO-WA); United Nations. Economic Commission for Africa; United Nations. Economic Commission for Africa. Subregional Office West Africa (SRO-WA); United Nations. Economic Commission for Africa. Subregional Office West Africa (SRO-WA)

"United Nations. Economic Commission for Africa; United Nations. Economic Commission for Africa. Subregional Office West Africa (SRO-WA); United Nations. Economic Commission for Africa. Subregional Office West Africa (SRO-WA); United Nations. Economic Commission for Africa; United Nations. Economic Commission for Africa. Subregional Office West Africa (SRO-WA); United Nations. Economic Commission for Africa. Subregional Office West Africa (SRO-WA) (2017). Impact of the economic community of West African States common external tariff and European Union Economic Partnership Agreements. Addis Ababa. © UN.ECA. https://hdl.handle.net/10855/43873"

Information society : regional dimensions Africa, Europe & North America, Latin America & Caribbean, Asia & Pacific, Western Asia.

United Nations. Economic Commission for Africa.; United Nations. Economic Commission for Latin America and the Caribbean; United Nations. Economic Commission for Latin America and the Caribbean; United Nations. Economic and Social Commission for Asia and the Pacific; United Nations. Economic and Social Commission for Western Asia

"United Nations. Economic Commission for Africa.; United Nations. Economic Commission for Latin America and the Caribbean; United Nations. Economic Commission for Latin America and the Caribbean; United Nations. Economic and Social Commission for Asia and the Pacific; United Nations. Economic and Social Commission for Western Asia (2003). Information society : regional dimensions Africa, Europe & North America, Latin America & Caribbean, Asia & Pacific, Western Asia.. World Summit on the Information Society (1st : 2003 : Geneva, Switzerland). Geneva :. © UN.ECA. https://hdl.handle.net/10855/41101"

Framework for a set of e-government core indicators

United Nations. Economic Commission for Africa.; United Nations. Economic Commission for Latin America and the Caribbean; United Nations. Economic and Social Commission for Asia and the Pacific; United Nations. Economic and Social Commission for Western Asia; Statistical Office of the European Union; International Telecommunication Union; Organisation for Economic Co-operation and Development; United Nations Conference on Trade and Development

"United Nations. Economic Commission for Africa.; United Nations. Economic Commission for Latin America and the Caribbean; United Nations. Economic and Social Commission for Asia and the Pacific; United Nations. Economic and Social Commission for Western Asia; Statistical Office of the European Union; International Telecommunication Union; Organisation for Economic Co-operation and Development; United Nations Conference on Trade and Development (2012). Framework for a set of e-government core indicators. Addis Ababa :. © UN. ECA,. https://hdl.handle.net/10855/25669"