Blue economy can be engine of Africa's economic growth if well utilized, says ECA's Adejumobi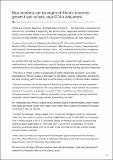 Published
2018-09
Author(s)/Corporate Author (s)
United Nations. Economic Commission for Africa;
United Nations. Economic Commission for Africa;

Abstract
The Economic Commission for Africa is fully committed to supporting the African Union, Regional Economic Communities (RECs) and member States to ensure that the untapped potentials of the continent's blue economy are fully realized, says ECA's Southern Africa Director, Mr. Said Adejumobi. In welcoming remarks to delegates attending the 24 Intergovernmental Committee of Experts (ICE) of Southern Africa on the theme; "Blue Economy, Inclusive Industrialization and Economic Development in Southern Africa", Mr. Adejumobi said the ECA recognizes the immense potentials of the blue economy for fostering industrial growth and economic development. Some of the associated challenges and risks of the blue economy include issues of governance and security of the ocean, piracy and terrorism, climate change, ocean environmental sustainability, poor infrastructure and technology, effective production connectivity with land-linked and land-locked countries, financing, and poor technical skills and capacity, he said, adding that more needs to be done at the regional level in the transformation of the blue economy sector through an integrated and holistic approach. Senior policy makers from the region, leading practitioners and experts, private sector operators, civil society, regional and international development agencies, including development financial institutions are attending the meeting. The meeting is hosted by the Government of Mauritius.
Citation
"United Nations. Economic Commission for Africa; United Nations. Economic Commission for Africa (2018-09). Blue economy can be engine of Africa's economic growth if well utilized, says ECA's Adejumobi. Addis Ababa:. © UN. ECA,. https://hdl.handle.net/10855/44798"
Serial Title
Press Release
Related items
Showing items related by title, author, creator and subject.
Report of the thirty-sixth session of the Intergovernmental Committee of Senior Officials and Experts for North Africa

United Nations. Economic Commission for Africa; United Nations. Economic Commission for Africa. Sub regional office for North Africa; United Nations. Economic Commission for Africa; United Nations. Economic Commission for Africa. Sub regional office for North Africa

"United Nations. Economic Commission for Africa; United Nations. Economic Commission for Africa. Sub regional office for North Africa; United Nations. Economic Commission for Africa; United Nations. Economic Commission for Africa. Sub regional office for North Africa (2021-12). Report of the thirty-sixth session of the Intergovernmental Committee of Senior Officials and Experts for North Africa. UN. ECA Intergovernmental Committee of Senior Officials and Experts for North Africa (36th sessions : 2021, Nov. 24 : Addia Ababa, Ethiopia). Addis Ababa :. © UN. ECA,. https://hdl.handle.net/10855/47917"

Concept note

United Nations. Economic Commission for Africa; United Nations. Economic Commission for Africa. Subregional Office West Africa (SRO-WA); United Nations. Economic Commission for Africa; United Nations. Economic Commission for Africa. Subregional Office West Africa (SRO-WA)

"United Nations. Economic Commission for Africa; United Nations. Economic Commission for Africa. Subregional Office West Africa (SRO-WA); United Nations. Economic Commission for Africa; United Nations. Economic Commission for Africa. Subregional Office West Africa (SRO-WA) (2022-08). Concept note. UN.ECA Intergovernmental Committee of Senior Officials and Experts for North Africa (1st Joint Session: 2022, Nov. 1-3: Marrakech, Morocco); UN.ECA Intergovernmental Committee of Senior Officials and Experts for West Africa (1st Joint Session: 2022, Nov. 1-3: Marrakech, Morocco). Addis Ababa :. © UN. ECA,. https://hdl.handle.net/10855/49128"