Focus on African industry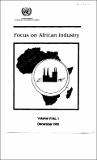 Published
1993-12
Author(s)/Corporate Author (s)
United Nattions. Economic Commission for Africa;

Abstract
In this issue of Focus on African Industry; Volume VI Number 1: the lead article, "Privatization in Africa: Issues and Options", analyses the broad issues and significance of various aspects and where appropriate, demonstrates by examples and experiences from elsewhere before proposing which way Africa should go. The articles that follow present various facets of the theme for this issue which is privatization and entrepreneurship development in Africa. The articles develop and present policy issues which are of significance not only for the development of micro-and small-scale enterprises but ensure adequate focus and balance in the area of basic industries development. All the articles bear Africa's priorities in mind.
Serial Title
Vol. 6, no.1 (Dec. 1993)
Related items
Showing items related by title, author, creator and subject.