Accelerating industrialization in Southern Africa through beneficiation and value addition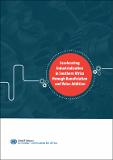 Published
2017-07
Author(s)/Corporate Author (s)
United Nations. Economic Commission for Africa. Subregional Office South Africa (SRO-SA);

Abstract
SADC member States stakeholders are involved in global commodity value chains that are very much a relic of the colonial era. These producers, however, are generally anchored at the bottom of these value chains and derive limited benefits in the process. This study has identified areas in which there are some levels of value addition and areas that offer opportunities or show potential for higher levels of benefaction and value addition. Among them are diamonds, platinum, gold, iron ore, cotton, fruits, coal, crude oil, marine products, natural gas and copper sectors. The study reviewed various initiatives by enterprises in member States to participate in global value chains, and concludes that value addition and benefaction to the natural resources utilizing global, regional and national value chain development techniques can potentially accelerate industrial development in Southern Africa. This, however, requires collaboration among stakeholders. The role of the State through various instruments is particularly important in navigating the transition from commodity exporters to knowledge economies.
Citation
"United Nations. Economic Commission for Africa. Subregional Office South Africa (SRO-SA) (2017-07). Accelerating industrialization in Southern Africa through beneficiation and value addition. Addis Ababa. © UN. ECA. "
Collections
Related items
Showing items related by title, author, creator and subject.
Infrastructure development and industrialization in Eastern Africa

United Nations. Economic Commission for Africa. Subregional Office East Africa (SRO-EA)

"United Nations. Economic Commission for Africa. Subregional Office East Africa (SRO-EA) (2017-11). Infrastructure development and industrialization in Eastern Africa. UN. ECA Intergovernmental Committee of Experts (ICE) Meeting(21st: 2017, Nov. 07-09 :Moroni, Comoros). Addis Ababa. © UN. ECA. "

Report on subregional initiatives

United Nations. Economic Commission for Africa. Subregional Office North Africa (SRO-NA)

"United Nations. Economic Commission for Africa. Subregional Office North Africa (SRO-NA) (2014-03). Report on subregional initiatives. UN. ECA Meeting of the Intergovernmental Committee of Experts(29th :2014, Mar. 4 - 6 :Rabat, Moroco). Addis Ababa :. © UN. ECA ,. http://hdl.handle.net/10855/22413"