The emergence of capitalist agriculture in India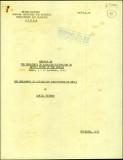 Published
1973-11
Author(s)/Corporate Author (s)
Thorner, Daniel;
United Nations. Economic Commission for Africa. African Institute for Economic Development and Planning(IDEP);

Abstract
In every major region of India today there is a boom in capitalist agriculture. Several years of sustained high prices for food grains have made investment in the production of high yielding varieties of paddy, wheat, maize and millet extraordinarily remunerative. Tube wells, electric pump sets, tractors, bags of fertilizers pesticides and weed killers provide visible evidence of the new style of farming which already covers a significant fraction of the land under cultivation. It is not only villagers of means who have begun applying modern methods on sizeable units of land. We are witnessing a veritable rush to the countryside of city folk eager to sink substantial suns into the soil. The development of a technologically advanced, profit-oriented sector in village agriculture is a very recent phenomenon. In the years down to 1947 large landholders contented themselves, for the most part, with giving out small parcels on one or another kind of tenancy, even where the fields were titled by laborers, the relations between masters and servants followed traditional patterns and the cultivation was carried on according to traditional methods. The rarest type to come across in the Indian countryside in the days before independence was a genuine capitalist producer who worked his land with hired labor to produce crops for sale at a profit and reinvested his gains in intensifying production or enlarging the scale.
Citation
"Thorner, Daniel; United Nations. Economic Commission for Africa. African Institute for Economic Development and Planning(IDEP) (1973-11). The emergence of capitalist agriculture in India. Dakar. © UN. IDEP. "
Related items
Showing items related by title, author, creator and subject.
Framework for a set of e-government core indicators

United Nations. Economic Commission for Africa.; United Nations. Economic Commission for Latin America and the Caribbean; United Nations. Economic and Social Commission for Asia and the Pacific; United Nations. Economic and Social Commission for Western Asia; Statistical Office of the European Union; International Telecommunication Union; Organisation for Economic Co-operation and Development; United Nations Conference on Trade and Development

"United Nations. Economic Commission for Africa.; United Nations. Economic Commission for Latin America and the Caribbean; United Nations. Economic and Social Commission for Asia and the Pacific; United Nations. Economic and Social Commission for Western Asia; Statistical Office of the European Union; International Telecommunication Union; Organisation for Economic Co-operation and Development; United Nations Conference on Trade and Development (2012). Framework for a set of e-government core indicators. Addis Ababa :. © UN. ECA,. http://hdl.handle.net/10855/25669"

Information society : regional dimensions Africa, Europe & North America, Latin America & Caribbean, Asia & Pacific, Western Asia.

United Nations. Economic Commission for Africa.; United Nations. Economic Commission for Latin America and the Caribbean; United Nations. Economic Commission for Latin America and the Caribbean; United Nations. Economic and Social Commission for Asia and the Pacific; United Nations. Economic and Social Commission for Western Asia

"United Nations. Economic Commission for Africa.; United Nations. Economic Commission for Latin America and the Caribbean; United Nations. Economic Commission for Latin America and the Caribbean; United Nations. Economic and Social Commission for Asia and the Pacific; United Nations. Economic and Social Commission for Western Asia (2003). Information society : regional dimensions Africa, Europe & North America, Latin America & Caribbean, Asia & Pacific, Western Asia.. World Summit on the Information Society (1st : 2003 : Geneva, Switzerland). Geneva :. © UN.ECA. http://hdl.handle.net/10855/41101"

Monitoring and evaluation programme of the implementation of the Dakar and Beijing Platforms for Action task brief

United Nations. Economic and Social Council; United Nations. Economic Commission for Africa. African Centre for Gender and Development; United Nations. Economic Commission for Africa; United Nations. Economic Commission for Africa. African Centre for Women

"United Nations. Economic and Social Council; United Nations. Economic Commission for Africa. African Centre for Gender and Development; United Nations. Economic Commission for Africa; United Nations. Economic Commission for Africa. African Centre for Women (2001-11). Monitoring and evaluation programme of the implementation of the Dakar and Beijing Platforms for Action task brief. UN. ECA Committee on Women and Development (CWD) Meeting (2001, novembre 5 - 8 : Addis Abeba, Ethiopie). Addis Ababa :. © UN. ECA,. http://hdl.handle.net/10855/15743"