Agrarian capitalism in east Cameroon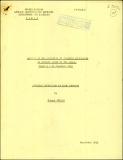 Published
1973-09
Author(s)/Corporate Author (s)
Dejean, Eliane de Latour;
United Nations. Economic Commission for Africa. African Institute for Economic Development and Planning(IDEP);

Abstract
The province of East Cameroon, located, more than 650 km. from the coast, was late in being penetrated, by European influence and. hence by capitalism. At present the forms of agrarian capitalism found, there are still embryonic. However, there is a beginning of a vigorous development of capitalist enterprises with the veritable invasion of this region by lumber companies from Ivory Coast. This is a phenomenon which it will be very interesting to study in depth later on. The forestry enterprise is highly labor-intensive, and in this under-populated region there will be problems, there are already problems of competition in the use of labour > between these capitalist enterprises and the traditional farms. A description of the patterns of traditional farming which we know quite well, as well as those of the forestry enterprises, could have helped us to glimpse the nature of the conflict but information on the latter is very difficult to obtain. Hence, for this first memorandum we will confine ourselves to presenting the general back- ground of the operations, i.e. the Eastern province and the main agricultural enterprises, leaving till later the gradual extension oi the debate on competition in the use of manpower.
Citation
"Dejean, Eliane de Latour; United Nations. Economic Commission for Africa. African Institute for Economic Development and Planning(IDEP) (1973-09). Agrarian capitalism in east Cameroon. Dakar. © UN. IDEP. "
Related items
Showing items related by title, author, creator and subject.
Framework for a set of e-government core indicators

United Nations. Economic Commission for Africa.; United Nations. Economic Commission for Latin America and the Caribbean; United Nations. Economic and Social Commission for Asia and the Pacific; United Nations. Economic and Social Commission for Western Asia; Statistical Office of the European Union; International Telecommunication Union; Organisation for Economic Co-operation and Development; United Nations Conference on Trade and Development

"United Nations. Economic Commission for Africa.; United Nations. Economic Commission for Latin America and the Caribbean; United Nations. Economic and Social Commission for Asia and the Pacific; United Nations. Economic and Social Commission for Western Asia; Statistical Office of the European Union; International Telecommunication Union; Organisation for Economic Co-operation and Development; United Nations Conference on Trade and Development (2012). Framework for a set of e-government core indicators. Addis Ababa :. © UN. ECA,. http://hdl.handle.net/10855/25669"

Information society : regional dimensions Africa, Europe & North America, Latin America & Caribbean, Asia & Pacific, Western Asia.

United Nations. Economic Commission for Africa.; United Nations. Economic Commission for Latin America and the Caribbean; United Nations. Economic Commission for Latin America and the Caribbean; United Nations. Economic and Social Commission for Asia and the Pacific; United Nations. Economic and Social Commission for Western Asia

"United Nations. Economic Commission for Africa.; United Nations. Economic Commission for Latin America and the Caribbean; United Nations. Economic Commission for Latin America and the Caribbean; United Nations. Economic and Social Commission for Asia and the Pacific; United Nations. Economic and Social Commission for Western Asia (2003). Information society : regional dimensions Africa, Europe & North America, Latin America & Caribbean, Asia & Pacific, Western Asia.. World Summit on the Information Society (1st : 2003 : Geneva, Switzerland). Geneva :. © UN.ECA. http://hdl.handle.net/10855/41101"

Monitoring and evaluation programme of the implementation of the Dakar and Beijing Platforms for Action task brief

United Nations. Economic and Social Council; United Nations. Economic Commission for Africa. African Centre for Gender and Development; United Nations. Economic Commission for Africa; United Nations. Economic Commission for Africa. African Centre for Women

"United Nations. Economic and Social Council; United Nations. Economic Commission for Africa. African Centre for Gender and Development; United Nations. Economic Commission for Africa; United Nations. Economic Commission for Africa. African Centre for Women (2001-11). Monitoring and evaluation programme of the implementation of the Dakar and Beijing Platforms for Action task brief. UN. ECA Committee on Women and Development (CWD) Meeting (2001, novembre 5 - 8 : Addis Abeba, Ethiopie). Addis Ababa :. © UN. ECA,. http://hdl.handle.net/10855/15743"