The transformation of the land tenure system, land appropriation and formation of the ruling class in the mauri country (Niger)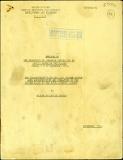 Date
1973-11
Author(s)/Corporate Author (s)
Dejean, Eliane de Latour;
United Nations. Economic Commission for Africa. African Institute for Economic Development and Planning(IDEP);

Résumé
The difference in kind between the pre-colonial and the postcolonial relations of production can he noticed through the gradual dissolution of relations based on a personal tieless gift-giving based on the market economy. The liberation of the labor forces this engendered and of channeled into a new system of constraint, led to the beginning of a private appropriation of land. The movement falls within the ambit of the law in which the codification of land relations based on ownership facilitated the task of the social groups whose rise to power is henceforth conditioned by the constitution of an economic power. A distinction must no doubt be made between the incomes derived directly from the land and those derived from trade and speculation. Agriculture is not yet in fact a capitalist sector. The nature of the investments and the means used still belong to the former mode of production, that is why only the social groups with money incomes from elsewhere make a profit from agriculture, whose profitability still depends on the volume of labor available from production and on speculations in the product at the level of circulation.
Citation
"Dejean, Eliane de Latour; United Nations. Economic Commission for Africa. African Institute for Economic Development and Planning(IDEP) (1973-11). The transformation of the land tenure system, land appropriation and formation of the ruling class in the mauri country (Niger). Dakar. © UN. IDEP. "
Related items
Showing items related by title, author, creator and subject.
Framework for a set of e-government core indicators

United Nations. Economic Commission for Africa.; United Nations. Economic Commission for Latin America and the Caribbean; United Nations. Economic and Social Commission for Asia and the Pacific; United Nations. Economic and Social Commission for Western Asia; Statistical Office of the European Union; International Telecommunication Union; Organisation for Economic Co-operation and Development; United Nations Conference on Trade and Development

"United Nations. Economic Commission for Africa.; United Nations. Economic Commission for Latin America and the Caribbean; United Nations. Economic and Social Commission for Asia and the Pacific; United Nations. Economic and Social Commission for Western Asia; Statistical Office of the European Union; International Telecommunication Union; Organisation for Economic Co-operation and Development; United Nations Conference on Trade and Development (2012). Framework for a set of e-government core indicators. Addis Ababa :. © UN. ECA,. http://hdl.handle.net/10855/25669"

Information society : regional dimensions Africa, Europe & North America, Latin America & Caribbean, Asia & Pacific, Western Asia.

United Nations. Economic Commission for Africa.; United Nations. Economic Commission for Latin America and the Caribbean; United Nations. Economic Commission for Latin America and the Caribbean; United Nations. Economic and Social Commission for Asia and the Pacific; United Nations. Economic and Social Commission for Western Asia

"United Nations. Economic Commission for Africa.; United Nations. Economic Commission for Latin America and the Caribbean; United Nations. Economic Commission for Latin America and the Caribbean; United Nations. Economic and Social Commission for Asia and the Pacific; United Nations. Economic and Social Commission for Western Asia (2003). Information society : regional dimensions Africa, Europe & North America, Latin America & Caribbean, Asia & Pacific, Western Asia.. World Summit on the Information Society (1st : 2003 : Geneva, Switzerland). Geneva :. © UN.ECA. http://hdl.handle.net/10855/41101"

Monitoring and evaluation programme of the implementation of the Dakar and Beijing Platforms for Action task brief

United Nations. Economic and Social Council; United Nations. Economic Commission for Africa. African Centre for Gender and Development; United Nations. Economic Commission for Africa; United Nations. Economic Commission for Africa. African Centre for Women

"United Nations. Economic and Social Council; United Nations. Economic Commission for Africa. African Centre for Gender and Development; United Nations. Economic Commission for Africa; United Nations. Economic Commission for Africa. African Centre for Women (2001-11). Monitoring and evaluation programme of the implementation of the Dakar and Beijing Platforms for Action task brief. UN. ECA Committee on Women and Development (CWD) Meeting (2001, novembre 5 - 8 : Addis Abeba, Ethiopie). Addis Ababa :. © UN. ECA,. http://hdl.handle.net/10855/15743"