Farm mechanisation and employment in developing countries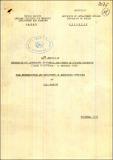 Published
1975-11
Author(s)/Corporate Author (s)
Clayton, E.S.;
United Nations. Economic Commission for Africa. African Institute for Economic Development and Planning(IDEP);

Abstract
In Africa, where communal ownership of land and owner occupying small holders prevail, mechanization has proceeded relatively slowly . with little marked effect on income distribution employment. And whilst a faster rate of mechanization would undoubtedly give rise to some degree of increase in income income disparity and labour displacement, there the problem is, given its firmly based uni-modal farm structure, one of identifying situations where the use of tractors is economic. There is, moreover, a need to evaluate the forms of mechanization which are appropriate to its small holder structure.
Citation
"Clayton, E.S.; United Nations. Economic Commission for Africa. African Institute for Economic Development and Planning(IDEP) (1975-11). Farm mechanisation and employment in developing countries. Dakar. © UN. IDEP. "
Related items
Showing items related by title, author, creator and subject.
Framework for a set of e-government core indicators

United Nations. Economic Commission for Africa.; United Nations. Economic Commission for Latin America and the Caribbean; United Nations. Economic and Social Commission for Asia and the Pacific; United Nations. Economic and Social Commission for Western Asia; Statistical Office of the European Union; International Telecommunication Union; Organisation for Economic Co-operation and Development; United Nations Conference on Trade and Development

"United Nations. Economic Commission for Africa.; United Nations. Economic Commission for Latin America and the Caribbean; United Nations. Economic and Social Commission for Asia and the Pacific; United Nations. Economic and Social Commission for Western Asia; Statistical Office of the European Union; International Telecommunication Union; Organisation for Economic Co-operation and Development; United Nations Conference on Trade and Development (2012). Framework for a set of e-government core indicators. Addis Ababa :. © UN. ECA,. http://hdl.handle.net/10855/25669"

Information society : regional dimensions Africa, Europe & North America, Latin America & Caribbean, Asia & Pacific, Western Asia.

United Nations. Economic Commission for Africa.; United Nations. Economic Commission for Latin America and the Caribbean; United Nations. Economic Commission for Latin America and the Caribbean; United Nations. Economic and Social Commission for Asia and the Pacific; United Nations. Economic and Social Commission for Western Asia

"United Nations. Economic Commission for Africa.; United Nations. Economic Commission for Latin America and the Caribbean; United Nations. Economic Commission for Latin America and the Caribbean; United Nations. Economic and Social Commission for Asia and the Pacific; United Nations. Economic and Social Commission for Western Asia (2003). Information society : regional dimensions Africa, Europe & North America, Latin America & Caribbean, Asia & Pacific, Western Asia.. World Summit on the Information Society (1st : 2003 : Geneva, Switzerland). Geneva :. © UN.ECA. http://hdl.handle.net/10855/41101"

Monitoring and evaluation programme of the implementation of the Dakar and Beijing Platforms for Action task brief

United Nations. Economic and Social Council; United Nations. Economic Commission for Africa. African Centre for Gender and Development; United Nations. Economic Commission for Africa; United Nations. Economic Commission for Africa. African Centre for Women

"United Nations. Economic and Social Council; United Nations. Economic Commission for Africa. African Centre for Gender and Development; United Nations. Economic Commission for Africa; United Nations. Economic Commission for Africa. African Centre for Women (2001-11). Monitoring and evaluation programme of the implementation of the Dakar and Beijing Platforms for Action task brief. UN. ECA Committee on Women and Development (CWD) Meeting (2001, novembre 5 - 8 : Addis Abeba, Ethiopie). Addis Ababa :. © UN. ECA,. http://hdl.handle.net/10855/15741"