Examining the impact of corruption on economic growth southern Africa development community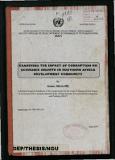 Published
2007-04
Author(s)/Corporate Author (s)
Ngulube, Susan;
United Nations. Economic Commission for Africa. African Institute for Economic Development and Planning(IDEP);

Abstract
This work examines the impact of corruption on economic growth in the Southern Africa Development Community (SADC) region over the period 1995-2003. Literature suggests that corruption may counteract government failure and promote economic growth given exogenously determined suboptimal bureaucratic rules and regulations. However, other studies suggest that corruption has detrimental effects on economic growth. The study uses Cross Country Regression Analysis to examine the impact of corruption on Economic growth. The findings reveal that there is a positive correlation between corruption perception index and growth. The findings suggest corruption has a detrimental impact on economic growth. Hence basing on the experience of countries that are least corrupt and have high levels of economic growth rates, the study recommends a holistic approach to deal with corruption. This can be done by redefining the role of government, improving the system of incentives and strengthen domestic institutions m order to make sure that necessary checks and balances are m place.
Citation
"Ngulube, Susan; United Nations. Economic Commission for Africa. African Institute for Economic Development and Planning(IDEP) (2007-04). Examining the impact of corruption on economic growth southern Africa development community. Dakar. © UN. IDEP. "
Collections
Related items
Showing items related by title, author, creator and subject.
Framework for a set of e-government core indicators

United Nations. Economic Commission for Africa.; United Nations. Economic Commission for Latin America and the Caribbean; United Nations. Economic and Social Commission for Asia and the Pacific; United Nations. Economic and Social Commission for Western Asia; Statistical Office of the European Union; International Telecommunication Union; Organisation for Economic Co-operation and Development; United Nations Conference on Trade and Development

"United Nations. Economic Commission for Africa.; United Nations. Economic Commission for Latin America and the Caribbean; United Nations. Economic and Social Commission for Asia and the Pacific; United Nations. Economic and Social Commission for Western Asia; Statistical Office of the European Union; International Telecommunication Union; Organisation for Economic Co-operation and Development; United Nations Conference on Trade and Development (2012). Framework for a set of e-government core indicators. Addis Ababa :. © UN. ECA,. http://hdl.handle.net/10855/25669"

Information society : regional dimensions Africa, Europe & North America, Latin America & Caribbean, Asia & Pacific, Western Asia.

United Nations. Economic Commission for Africa.; United Nations. Economic Commission for Latin America and the Caribbean; United Nations. Economic Commission for Latin America and the Caribbean; United Nations. Economic and Social Commission for Asia and the Pacific; United Nations. Economic and Social Commission for Western Asia

"United Nations. Economic Commission for Africa.; United Nations. Economic Commission for Latin America and the Caribbean; United Nations. Economic Commission for Latin America and the Caribbean; United Nations. Economic and Social Commission for Asia and the Pacific; United Nations. Economic and Social Commission for Western Asia (2003). Information society : regional dimensions Africa, Europe & North America, Latin America & Caribbean, Asia & Pacific, Western Asia.. World Summit on the Information Society (1st : 2003 : Geneva, Switzerland). Geneva :. © UN.ECA. http://hdl.handle.net/10855/41101"

Monitoring and evaluation programme of the implementation of the Dakar and Beijing Platforms for Action task brief

United Nations. Economic and Social Council; United Nations. Economic Commission for Africa. African Centre for Gender and Development; United Nations. Economic Commission for Africa; United Nations. Economic Commission for Africa. African Centre for Women

"United Nations. Economic and Social Council; United Nations. Economic Commission for Africa. African Centre for Gender and Development; United Nations. Economic Commission for Africa; United Nations. Economic Commission for Africa. African Centre for Women (2001-11). Monitoring and evaluation programme of the implementation of the Dakar and Beijing Platforms for Action task brief. UN. ECA Committee on Women and Development (CWD) Meeting (2001, novembre 5 - 8 : Addis Abeba, Ethiopie). Addis Ababa :. © UN. ECA,. http://hdl.handle.net/10855/15743"