Poverty profile and poverty alleviation during economic recovery and adjustment in Sierra Leone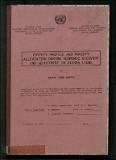 Published
1991
Author(s)/Corporate Author (s)
Saffa, Jacob Jusu;
United Nations. Economic Commission for Africa. African Institute for Economic Development and Planning(IDEP);

Abstract
The Government of Sierra Leone(GOSL) initiated the IMF/World Bank inspired Structural Adjustment Programme to redress the macroeconomic imbalances and structural bottlenecks that characterized the Sierra Leonean economy from the 1970s through the 1980s. Notwithstanding, the macroeconomic imbalances and the structural bottlenecks continue and there is increased hardship for the vast majority of the population. The common contention is that the number of the poor and the severity of poverty increased during the recovery and adjustment period. This study therefore tested the hypothesis that poverty became widespread during the policy reform period (1986 to date). Accordingly, the specific objectives considered include: determining the number of the poor, who they are and where they live, why they are poor and how they cope. This was followed by a proposal on a new agenda for poverty alleviation. Both empirical and analytical approaches were adopted to achieve the objectives. The study utilizes survey reports, data generated by World Bank, UNICEF, Government departments and other agencies. The study found that the number of the poor and the severity of poverty increased during the reform period. It also showed that poverty is more widespread in rural areas than the urban areas and the North and the South are worse off than the West and the East. The causes of widespread poverty include: prevailing macroeconomic imbalances, the disjointed and selective SAP initiated in 1986, population increase, environmental degradation, unemployment, underemployment and low labour productivity.
Citation
"Saffa, Jacob Jusu; United Nations. Economic Commission for Africa. African Institute for Economic Development and Planning(IDEP) (1991). Poverty profile and poverty alleviation during economic recovery and adjustment in Sierra Leone. Dakar. © UN. IDEP. "
Collections
Related items
Showing items related by title, author, creator and subject.
Framework for a set of e-government core indicators

United Nations. Economic Commission for Africa.; United Nations. Economic Commission for Latin America and the Caribbean; United Nations. Economic and Social Commission for Asia and the Pacific; United Nations. Economic and Social Commission for Western Asia; Statistical Office of the European Union; International Telecommunication Union; Organisation for Economic Co-operation and Development; United Nations Conference on Trade and Development

"United Nations. Economic Commission for Africa.; United Nations. Economic Commission for Latin America and the Caribbean; United Nations. Economic and Social Commission for Asia and the Pacific; United Nations. Economic and Social Commission for Western Asia; Statistical Office of the European Union; International Telecommunication Union; Organisation for Economic Co-operation and Development; United Nations Conference on Trade and Development (2012). Framework for a set of e-government core indicators. Addis Ababa :. © UN. ECA,. http://hdl.handle.net/10855/25669"

Information society : regional dimensions Africa, Europe & North America, Latin America & Caribbean, Asia & Pacific, Western Asia.

United Nations. Economic Commission for Africa.; United Nations. Economic Commission for Latin America and the Caribbean; United Nations. Economic Commission for Latin America and the Caribbean; United Nations. Economic and Social Commission for Asia and the Pacific; United Nations. Economic and Social Commission for Western Asia

"United Nations. Economic Commission for Africa.; United Nations. Economic Commission for Latin America and the Caribbean; United Nations. Economic Commission for Latin America and the Caribbean; United Nations. Economic and Social Commission for Asia and the Pacific; United Nations. Economic and Social Commission for Western Asia (2003). Information society : regional dimensions Africa, Europe & North America, Latin America & Caribbean, Asia & Pacific, Western Asia.. World Summit on the Information Society (1st : 2003 : Geneva, Switzerland). Geneva :. © UN.ECA. http://hdl.handle.net/10855/41101"

Monitoring and evaluation programme of the implementation of the Dakar and Beijing Platforms for Action task brief

United Nations. Economic and Social Council; United Nations. Economic Commission for Africa. African Centre for Gender and Development; United Nations. Economic Commission for Africa; United Nations. Economic Commission for Africa. African Centre for Women

"United Nations. Economic and Social Council; United Nations. Economic Commission for Africa. African Centre for Gender and Development; United Nations. Economic Commission for Africa; United Nations. Economic Commission for Africa. African Centre for Women (2001-11). Monitoring and evaluation programme of the implementation of the Dakar and Beijing Platforms for Action task brief. UN. ECA Committee on Women and Development (CWD) Meeting (2001, novembre 5 - 8 : Addis Abeba, Ethiopie). Addis Ababa :. © UN. ECA,. http://hdl.handle.net/10855/15743"