Development economics first lecture: theories of economic growth: explanations of underdevelopment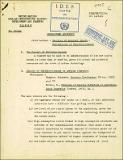 Published
1959
Author(s)/Corporate Author (s)
Carney, David;
United Nations. Economic Commission for Africa. African Institute for Economic Development and Planning(IDEP);

Abstract
A country may be said to be underdeveloped if its per capita income is lower than it need be, given its actual and potential sources and the state of modern technology. The main indices are the following: Low aggregate demand for output as a whole, so that individual industries have a difficult time getting established; Low level of per capita income of the population, given the actual and potential resources and the technology available in the modern world; High consumption levels linked to high consumption standards and patterns of the industrialized countries. This means a high marginal propensity to consume imports of consumer goods out of every increase in per capita income, against the background of the demonstration effect of higher standards of living abroad.
Citation
"Carney, David; United Nations. Economic Commission for Africa. African Institute for Economic Development and Planning(IDEP) (1959). Development economics first lecture: theories of economic growth: explanations of underdevelopment. Dakar. © UN. IDEP. "
Related items
Showing items related by title, author, creator and subject.
Framework for a set of e-government core indicators

United Nations. Economic Commission for Africa.; United Nations. Economic Commission for Latin America and the Caribbean; United Nations. Economic and Social Commission for Asia and the Pacific; United Nations. Economic and Social Commission for Western Asia; Statistical Office of the European Union; International Telecommunication Union; Organisation for Economic Co-operation and Development; United Nations Conference on Trade and Development

"United Nations. Economic Commission for Africa.; United Nations. Economic Commission for Latin America and the Caribbean; United Nations. Economic and Social Commission for Asia and the Pacific; United Nations. Economic and Social Commission for Western Asia; Statistical Office of the European Union; International Telecommunication Union; Organisation for Economic Co-operation and Development; United Nations Conference on Trade and Development (2012). Framework for a set of e-government core indicators. Addis Ababa :. © UN. ECA,. http://hdl.handle.net/10855/25669"