Aid to poor countries: World bank decides to reduce preferential credits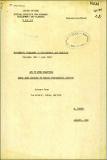 Published
1982-01
Author(s)/Corporate Author (s)
Founou, B.;
United Nations. Economic Commission for Africa. African Institute for Economic Development and Planning(IDEP);

Abstract
The Executive Board of the World Bark has decided to reduce by more than one-third, the preferential loans made to the most under-privileged countries - it was learned yesterday from sources close to the International Institution. The volume of these credits for the financial year ending 30 June was reduced to 2.6 billion dollars against the originally planned amount of 4.1. Billion - the sources added. These loans, which shall be interest-free and spread over 50 years, shall be distributed through the International Development Association (IDA).
Citation
"Founou, B.; United Nations. Economic Commission for Africa. African Institute for Economic Development and Planning(IDEP) (1982-01). Aid to poor countries: World bank decides to reduce preferential credits. Dakar. © UN. IDEP. "
Related items
Showing items related by title, author, creator and subject.
Framework for a set of e-government core indicators

United Nations. Economic Commission for Africa.; United Nations. Economic Commission for Latin America and the Caribbean; United Nations. Economic and Social Commission for Asia and the Pacific; United Nations. Economic and Social Commission for Western Asia; Statistical Office of the European Union; International Telecommunication Union; Organisation for Economic Co-operation and Development; United Nations Conference on Trade and Development

"United Nations. Economic Commission for Africa.; United Nations. Economic Commission for Latin America and the Caribbean; United Nations. Economic and Social Commission for Asia and the Pacific; United Nations. Economic and Social Commission for Western Asia; Statistical Office of the European Union; International Telecommunication Union; Organisation for Economic Co-operation and Development; United Nations Conference on Trade and Development (2012). Framework for a set of e-government core indicators. Addis Ababa :. © UN. ECA,. http://hdl.handle.net/10855/25669"

Information society : regional dimensions Africa, Europe & North America, Latin America & Caribbean, Asia & Pacific, Western Asia.

United Nations. Economic Commission for Africa.; United Nations. Economic Commission for Latin America and the Caribbean; United Nations. Economic Commission for Latin America and the Caribbean; United Nations. Economic and Social Commission for Asia and the Pacific; United Nations. Economic and Social Commission for Western Asia

"United Nations. Economic Commission for Africa.; United Nations. Economic Commission for Latin America and the Caribbean; United Nations. Economic Commission for Latin America and the Caribbean; United Nations. Economic and Social Commission for Asia and the Pacific; United Nations. Economic and Social Commission for Western Asia (2003). Information society : regional dimensions Africa, Europe & North America, Latin America & Caribbean, Asia & Pacific, Western Asia.. World Summit on the Information Society (1st : 2003 : Geneva, Switzerland). Geneva :. © UN.ECA. http://hdl.handle.net/10855/41101"

Monitoring and evaluation programme of the implementation of the Dakar and Beijing Platforms for Action task brief

United Nations. Economic and Social Council; United Nations. Economic Commission for Africa. African Centre for Gender and Development; United Nations. Economic Commission for Africa; United Nations. Economic Commission for Africa. African Centre for Women

"United Nations. Economic and Social Council; United Nations. Economic Commission for Africa. African Centre for Gender and Development; United Nations. Economic Commission for Africa; United Nations. Economic Commission for Africa. African Centre for Women (2001-11). Monitoring and evaluation programme of the implementation of the Dakar and Beijing Platforms for Action task brief. UN. ECA Committee on Women and Development (CWD) Meeting (2001, novembre 5 - 8 : Addis Abeba, Ethiopie). Addis Ababa :. © UN. ECA,. http://hdl.handle.net/10855/15743"