Egypt since 1800 :a study in lop-sided development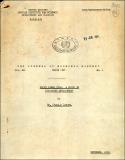 Published
1970-12
Author(s)/Corporate Author (s)
Issawi, Charles;
United Nations. Economic Commission for Africa. African Institute for Economic Development and Planning(IDEP);

Abstract
One of the main points at issue between economists from advanced and those from underdeveloped countries is the role of foreign trade in economic development. The former see in the expansion of foreign trade the main motive power of development, while the latter pin their hopes on ether sectors, notably manufacturing. Egypt' s economic development during the past century and a half conform to the general pattern describe d above but presents certain peculiarities which deserve attention. First, at the very beginning of this period, Egypt made an unsuccessful effort to leap from a subsistence economy directly to a complex economy. Following that failure, the transition from a subsistence to an export-oriented economy was consummated very swiftly. The passage from an export-oriented to a complex economy was greatly delayed, and has begun to gather momentum only in the last few years. This delay has resulted in the accumulation of severe difficulties· notably a rapid population growth, which are hampering the transition and may; perhaps be overcome only by extra-economic measures.
Citation
"Issawi, Charles; United Nations. Economic Commission for Africa. African Institute for Economic Development and Planning(IDEP) (1970-12). Egypt since 1800 :a study in lop-sided development. The Journal of economic history. Vol.XXI No.1, 5 p.. Dakar. © UN. IDEP. "
Serial Title
The Journal of economic history
Related items
Showing items related by title, author, creator and subject.
Impact of the economic community of West African States common external tariff and European Union Economic Partnership Agreements

United Nations. Economic Commission for Africa; United Nations. Economic Commission for Africa. Subregional Office West Africa (SRO-WA); United Nations. Economic Commission for Africa. Subregional Office West Africa (SRO-WA); United Nations. Economic Commission for Africa; United Nations. Economic Commission for Africa. Subregional Office West Africa (SRO-WA); United Nations. Economic Commission for Africa. Subregional Office West Africa (SRO-WA)

"United Nations. Economic Commission for Africa; United Nations. Economic Commission for Africa. Subregional Office West Africa (SRO-WA); United Nations. Economic Commission for Africa. Subregional Office West Africa (SRO-WA); United Nations. Economic Commission for Africa; United Nations. Economic Commission for Africa. Subregional Office West Africa (SRO-WA); United Nations. Economic Commission for Africa. Subregional Office West Africa (SRO-WA) (2017). Impact of the economic community of West African States common external tariff and European Union Economic Partnership Agreements. Addis Ababa. © UN.ECA. https://repository.uneca.org/handle/10855/43873"

Framework for a set of e-government core indicators

United Nations. Economic Commission for Africa.; United Nations. Economic Commission for Latin America and the Caribbean; United Nations. Economic and Social Commission for Asia and the Pacific; United Nations. Economic and Social Commission for Western Asia; Statistical Office of the European Union; International Telecommunication Union; Organisation for Economic Co-operation and Development; United Nations Conference on Trade and Development

"United Nations. Economic Commission for Africa.; United Nations. Economic Commission for Latin America and the Caribbean; United Nations. Economic and Social Commission for Asia and the Pacific; United Nations. Economic and Social Commission for Western Asia; Statistical Office of the European Union; International Telecommunication Union; Organisation for Economic Co-operation and Development; United Nations Conference on Trade and Development (2012). Framework for a set of e-government core indicators. Addis Ababa :. © UN. ECA,. http://hdl.handle.net/10855/25669"

Information society : regional dimensions Africa, Europe & North America, Latin America & Caribbean, Asia & Pacific, Western Asia.

United Nations. Economic Commission for Africa.; United Nations. Economic Commission for Latin America and the Caribbean; United Nations. Economic Commission for Latin America and the Caribbean; United Nations. Economic and Social Commission for Asia and the Pacific; United Nations. Economic and Social Commission for Western Asia

"United Nations. Economic Commission for Africa.; United Nations. Economic Commission for Latin America and the Caribbean; United Nations. Economic Commission for Latin America and the Caribbean; United Nations. Economic and Social Commission for Asia and the Pacific; United Nations. Economic and Social Commission for Western Asia (2003). Information society : regional dimensions Africa, Europe & North America, Latin America & Caribbean, Asia & Pacific, Western Asia.. World Summit on the Information Society (1st : 2003 : Geneva, Switzerland). Geneva :. © UN.ECA. http://hdl.handle.net/10855/41101"