Socialism and economic development in tropical Africa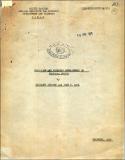 Published
1970-12
Author(s)/Corporate Author (s)
Arrighi, Giovanni.;
S. Saul, John;
United Nations. Economic Commission for Africa. African Institute for Economic Development and Planning(IDEP);

Abstract
The purpose of this article is limited, as, at the present stage of the debate, we can merely hope to raise some neglected questions, juxtaposing them with the theory and praxis of African socialist. The fuller elaboration of a socialist strategy, on the other hand, can only emerge at a more advanced stage of debate and research. In section I we examine the relationship between current class formation in tropical Africa and economic development, focusing on the involvement of international capitalism in the area and on the emergence of what we shall define as the labor aristocracy of tropical Africa. In section II we shall look, first, a t the ideology of 'African socialism and, secondly, at the policies of African socialists, subjecting bath theory and praxis to careful critique. From this exercise the reader should gain a broader perspective on the problem of socialism in contemporary Africa; we shall conclude with some brief remarks on the future course of socialist debate and strategy in Africa, making some reference to the Tanzanian experience (section III).
Citation
"Arrighi, Giovanni.; S. Saul, John; United Nations. Economic Commission for Africa. African Institute for Economic Development and Planning(IDEP) (1970-12). Socialism and economic development in tropical Africa. Dakar. © UN. IDEP. "
Related items
Showing items related by title, author, creator and subject.
Framework for a set of e-government core indicators

United Nations. Economic Commission for Africa.; United Nations. Economic Commission for Latin America and the Caribbean; United Nations. Economic and Social Commission for Asia and the Pacific; United Nations. Economic and Social Commission for Western Asia; Statistical Office of the European Union; International Telecommunication Union; Organisation for Economic Co-operation and Development; United Nations Conference on Trade and Development

"United Nations. Economic Commission for Africa.; United Nations. Economic Commission for Latin America and the Caribbean; United Nations. Economic and Social Commission for Asia and the Pacific; United Nations. Economic and Social Commission for Western Asia; Statistical Office of the European Union; International Telecommunication Union; Organisation for Economic Co-operation and Development; United Nations Conference on Trade and Development (2012). Framework for a set of e-government core indicators. Addis Ababa :. © UN. ECA,. http://hdl.handle.net/10855/25669"