Problems of location of industries factors in industrial location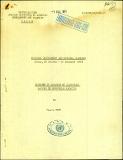 Published
1968-12
Author(s)/Corporate Author (s)
Viot, Pierre;
United Nations. Economic Commission for Africa. African Institute for Economic Development and Planning(IDEP);

Abstract
Role of the transport factor distance is becoming less and less of a constraint on industrial location of technical progress in tran transport, the development of lighter products and the use of less weighty raw materials. Effect of the development of production techniques, changes in the size of enterprises etc… The role of the manpower factor quantity related to population growth and to the conversion of agricultural labour cost of labour and disparities in wages between regions; quality (skill) of labour and need to expand vocational training. The role of the technical solidarity factor of industries: necessity of creating industrial complexes with built- in linkages between enterprises. Trend towards the concentration of industrial activities.
Citation
"Viot, Pierre; United Nations. Economic Commission for Africa. African Institute for Economic Development and Planning(IDEP) (1968-12). Problems of location of industries factors in industrial location. Dakar. © UN. IDEP. "
Related items
Showing items related by title, author, creator and subject.
Développement du secteur privé et emplois dans le secteur manufacturier en Afrique de l'Est

Nations Unies. Commission Economique pour l'Afrique; Nations Unies. Commission Economique pour l'Afrique

"Nations Unies. Commission Economique pour l'Afrique; Nations Unies. Commission Economique pour l'Afrique (2017-11). Développement du secteur privé et emplois dans le secteur manufacturier en Afrique de l'Est. NU. CEA Réunion du Comité Intergouvernemental d'Experts(21ème :2017, 17-19 nov.:Moroni, Union des Comores). Addis Abeba. © NU. CEA. "

Report on subregional initiatives

United Nations. Economic Commission for Africa. Subregional Office North Africa (SRO-NA)

"United Nations. Economic Commission for Africa. Subregional Office North Africa (SRO-NA) (2014-03). Report on subregional initiatives. UN. ECA Meeting of the Intergovernmental Committee of Experts(29th :2014, Mar. 4 - 6 :Rabat, Moroco). Addis Ababa :. © UN. ECA ,. http://hdl.handle.net/10855/22413"