Fund Transfers by Moroccan Expatriates: Context, Evolution and Prospects for Capacity-building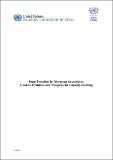 Published
2019
Author(s)/Corporate Author (s)
United Nations. Economic Commission for Africa;

Abstract
The study is part of a project directed by the ECA Sub regional Office for North Africa, in cooperation with the Economic and Social Commission for Western Asia (ESCWA). It is aimed at analyzing, using the comparative approach, the dynamic of fund transfers from the foreign nationals of three countries in the North Africa sub region. The Morocco case study is therefore aimed at identifying the dynamics and determinants of the remittances of Moroccans living abroad, and particularly those intended for investment for a possible inter-Maghreb comparison, that may help draw lessons and identify the best practices for the region. The main purpose of the study (according to the terms of reference) is to analyse the general context and dynamics of Moroccan emigration, as well as the determinants for fund transfers, particularly those intended for investment. This report has three central themes. The first concerns the general situation of Moroccans living abroad and the main socio demographic characteristics. The second deals with the main features of Moroccan expatriate fund transfers. It presents a few analytical elements for understanding the strengths and weaknesses of transfers, as well as the opportunities and risks. The third covers policy recommendations, for the purposes of lifting the constraints weighing on fund transfers and boosting the contribution of these transfers to Morocco's development.
Citation
"United Nations. Economic Commission for Africa (2019). Fund Transfers by Moroccan Expatriates: Context, Evolution and Prospects for Capacity-building. Addis Ababa. © UN. ECA. "
Related items
Showing items related by title, author, creator and subject.
The growth and structure of financial institutions in African LDCs

United Nations. Economic and Social Council; United Nations. Economic Commission for Africa

"United Nations. Economic and Social Council; United Nations. Economic Commission for Africa (1989-01). The growth and structure of financial institutions in African LDCs. UN. ECA Meeting of the Conference of Ministers of African Least Devlopined Countries (9th 1989, 4-5, Apr : Addis Ababa,Ethiopia).; UN. ECA Meeting of the Intergovernmental Committee of Experts of African Least Developped Countries (8th : 1989, Mar, 22-24 : Addis Ababa, Ethiopia). Addis Ababa :. © UN. ECA,. http://hdl.handle.net/10855/11582"

Programme de travail provisoire et projet de budget pour l'exercice biennal 1979-1980

Nations Unies.Commission économique pour l'Afrique

"Nations Unies.Commission économique pour l'Afrique (1979-05). Programme de travail provisoire et projet de budget pour l'exercice biennal 1979-1980. NU. CEA Institut Supérieur Africain de Formation et de Recherche techniques reunion du conseil d administration (1979, Jui 24-27 : Addis Abea, Ethiopie).; NU. CEA Conseil d'Administration (1éme Session: 1979 Juillet 24-27 Addis Ababa, Ethiopia). Addis Ababa :. © UN. ECA,. http://hdl.handle.net/10855/17722"

Financement du development de la science et de la technique en Afrique

Nations Unies. Commission Economique pour l'Afrique; Nations Unies. Conseil Economique et Social

"Nations Unies. Commission Economique pour l'Afrique; Nations Unies. Conseil Economique et Social (1991-10). Financement du development de la science et de la technique en Afrique. NU.CEA Comité intergouvernmental d'experts pour le développement de la science et de la technique (7 éme 1991, nov. 4 - 8 : Addis Abeba, Ethiopie). Addis Ababa :. © UN. ECA,. http://hdl.handle.net/10855/13980"