The impacts of the global financial crisis on remitances in Eastern Africa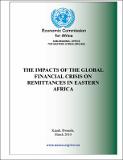 Published
2010-03
Author(s)/Corporate Author (s)
United Nations. Economic Commission for Africa. Subregional Office East Africa (SRO-EA);

Abstract
The view that the relatively low economies of the sub-Saharan Africa may not be affected by the global economic and financial crisis due to their minimal integration to the world giants of the financial markets is no longer valid as the impact of the crisis has affected heavily the continent. It is believed that the global financial crisis will likely and substantially set back progress towards poverty reduction and the achievement of the Millennium Development Goals. It is predicted that Official Development Assistance (ODA) to Africa and the realization of standing commitments may have been put at risk in the near future. Even assistance for non-traditional donors, including remittances from African in the Diaspora may therefore likely become even more critical. The findings of this study reveals not only the resilient nature of remittances but also the increasingly prominent role it's playing in boosting the foreign exchange earnings of their respective countries.
Citation
"United Nations. Economic Commission for Africa. Subregional Office East Africa (SRO-EA) (2010-03). The impacts of the global financial crisis on remitances in Eastern Africa. Addis Ababa:. © UN. ECA,. "
Collections
Related items
Showing items related by title, author, creator and subject.
Financing industrialization in Central Africa

United Nations. Economic Commission for Africa. Subregional Office Central Africa (SRO-CA)

"United Nations. Economic Commission for Africa. Subregional Office Central Africa (SRO-CA) (2019-01). Financing industrialization in Central Africa. UN. ECA Intergovernmental Committee of Experts(34th:2018, Sep. 18 - 21: N'Djamena, Chad). Addis Ababa. © UN. ECA. "

The growth and structure of financial institutions in African LDCs

United Nations. Economic and Social Council; United Nations. Economic Commission for Africa

"United Nations. Economic and Social Council; United Nations. Economic Commission for Africa (1989-01). The growth and structure of financial institutions in African LDCs. UN. ECA Meeting of the Conference of Ministers of African Least Devlopined Countries (9th 1989, 4-5, Apr : Addis Ababa,Ethiopia).; UN. ECA Meeting of the Intergovernmental Committee of Experts of African Least Developped Countries (8th : 1989, Mar, 22-24 : Addis Ababa, Ethiopia). Addis Ababa :. © UN. ECA,. http://hdl.handle.net/10855/11582"