conference on revitalizing private investment: Address by K.Y.Amoako, Executive Secretary, ECA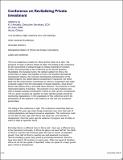 Published
1996-06
Author(s)/Corporate Author (s)
Amoako, K.Y.;
United Nations. Economic Commission for Africa.;

Abstract
In this conference we are interested in investments by all sources, African and the foreign investor. Some have felt that the foreign investor would come first and then the African investor. In fact, the African investor has come first and will probably constitute about 80 percent of all investment over time; then often comes the investor from Africa's diaspora; and only then the more typical foreign investor and those foreign investments in turn spur more African investment. Now we are in the stage when more foreign investment will be coming. The general message from analytical and empirical work, from the point of view of investment, is that the stability and predictability of the incentive framework -relative prices, demand, interest rates, taxes - may be much more important than the level of the incentives themselves. The United Nations Economic Commission for Africa is proud to have played a significant part in organizing this conference. Some may be surprised that ECA is helping to do business when it is rumored that the United Nations is going out of business! Our being here and having organized this meeting in strategic alliance with other great institutions is proof that you cannot operate by rumors; you have to come to Africa and see for yourself.
Citation
"Amoako, K.Y.; United Nations. Economic Commission for Africa. (1996-06). conference on revitalizing private investment: Address by K.Y.Amoako, Executive Secretary, ECA. UN. ECA Conference Revitalizing Private Investment (1996, Jun. 20: Accra, Ghana). Addis Ababa:. © UN. ECA,. https://hdl.handle.net/10855/31496"
Conference
UN. ECA Conference Revitalizing Private Investment (1996, Jun. 20: Accra, Ghana)
Related items
Showing items related by title, author, creator and subject.