Building a social contract for transformation through direct taxation:from consumer to citizen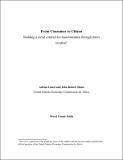 Published
2019
Author(s)/Corporate Author (s)
Gauci, Adrian;
Sloan, John Robert;
United Nations. Economic Commission for Africa;

Abstract
Externally driven financing of national development strategies has resulted in a serious challenge faced by African States to develop an effective exit strategy from resource rents and aid. This paper seeks to demonstrate that direct taxation, while raising revenues for development, has the added advantage in the makings of a social contract which enables economic transformation. It contributes to the growing debate on governance necessary for development using secondary data on governance and taxation to further investigate this relationship. Initial findings show that over the period 2006-14 a one per cent increase in direct taxation is correlated with a 0.13 per cent increase in accountability, whilst trade taxes are less significantly correlated and indirect taxes and ODA are in fact negatively correlated with accountability. This takes on increased urgency as the Agenda 2030 Sustainable Development Goals – based largely on domestic resources and with a focus on transformation – take center stage as the new development agenda.
Citation
"Gauci, Adrian; Sloan, John Robert; United Nations. Economic Commission for Africa (2019). Building a social contract for transformation through direct taxation:from consumer to citizen. Addis Ababa. © UN.ECA. "
Related items
Showing items related by title, author, creator and subject.
Indice africain de développement social indice africain de développement social (IADS): mesure de l'exclusion humaine dans une optique de transformation structurelle

Nations Unies. Commission Economique pour l'Afrique. Division des politiques de développement social. Section de l'emploi et de la protection sociale; Nations Unies. Commission Economique pour l'Afrique. Division des politiques de développement social. Section de l'emploi et de la protection sociale

"Nations Unies. Commission Economique pour l'Afrique. Division des politiques de développement social. Section de l'emploi et de la protection sociale; Nations Unies. Commission Economique pour l'Afrique. Division des politiques de développement social. Section de l'emploi et de la protection sociale (2017-11). Indice africain de développement social indice africain de développement social (IADS): mesure de l'exclusion humaine dans une optique de transformation structurelle. Addis Abeba:. © NU. CEA,. "

Document de référence sur le sous-thème: «éliminer toutes les formes de pauvreté en Afrique»

Nations Unies. Commission Economique pour l'Afrique; Nations Unies. Conseil Economique et Social; Nations Unies. Commission Economique pour l'Afrique; Nations Unies. Conseil Economique et Social

"Nations Unies. Commission Economique pour l'Afrique; Nations Unies. Conseil Economique et Social; Nations Unies. Commission Economique pour l'Afrique; Nations Unies. Conseil Economique et Social (2017-05). Document de référence sur le sous-thème: «éliminer toutes les formes de pauvreté en Afrique». NU. CEA Forum régional africain pour le développement durable (3ème: 2017, 17-19 mai: Addis Abeba, Ethiopie). Addis Abeba. © NU. CEA. "