Concept paper: the fifth African Development Forum (ADF-V) Youth and Leadership in the 21st Century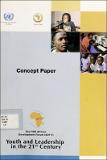 Published
2006-11
Author(s)/Corporate Author (s)
Organisation Internationale de la Francophonie;
International Labour Office;
UNICEF;
United Nations. Economic Commission for Africa;
United Nations Population Fund;
United Nations Development Programme;
African Union Commission;
African Development Bank;

Abstract
Africa is a continent of the young, with more than 60% of the total population below the age of 25. Any serious policy tor social, political and economic development in Africa must recognize the importance of young people, especially in promoting social progress, reducing political tension and maximizing economic performance. The immediate objective of ADF-V is to fulfill the requirements of UNGA Resolution 60/2 of October 2005, by providing a platform for regional consultations and discussions on key issues affecting youth with Member States, UN agencies, civil society as well as African youth, with the view to evaluating progress towards the objectives of the WPAY, notably, the development of holistic and integrated youth development policies in member states and the enhancement of synergies among stakeholders including UN system agencies for youth development in Africa. The ultimate objective of ADF-V is to deepen strategies at the regional and national levels for translating the potential of youth as a development asset into practical benefits for Africa's democratic, gender-equal, peaceful and rights-based development, in line with the objectives of the proposed African Union Youth Charter, NEPAD and internationally agreed development goals including MDGs.
Citation
"Organisation Internationale de la Francophonie; International Labour Office; UNICEF; United Nations. Economic Commission for Africa; United Nations Population Fund; United Nations Development Programme; African Union Commission; African Development Bank (2006-11). Concept paper: the fifth African Development Forum (ADF-V) Youth and Leadership in the 21st Century. UN. ECA African Development Forum (ADF V) (5th : 2006, Nov. 16-18 : Addis Ababa, Ethiopia). Addis Ababa :. © UN. ECA,. https://hdl.handle.net/10855/3124"
Conference
UN. ECA African Development Forum (ADF V) (5th : 2006, Nov. 16-18 : Addis Ababa, Ethiopia)
Related items
Showing items related by title, author, creator and subject.
Third African population conference: conference papers

United Nations Population Fund; Organization of African Unity; African Development Bank; Government of the Republic of Senegal; United Nations. Economic Commission for Africa African Center for Statistics

"United Nations Population Fund; Organization of African Unity; African Development Bank; Government of the Republic of Senegal; United Nations. Economic Commission for Africa African Center for Statistics (1994). Third African population conference: conference papers. Conference Papers :. vol.3, iii, 230 p.. UN. ECA African Population Conference, Meeting of Experts (3rd : 1992, Dec. 11- 12 : Dakar, Senegal). Addis Ababa :. © UN.E CA,. https://hdl.handle.net/10855/2063"