Third African population conference: report of the conference and related activities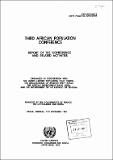 Published
1994
Author(s)/Corporate Author (s)
United Nations. Economic Commission for Africa;

Abstract
The Conference of Ministers of Planning and Economic Development of the United Nations Economic Commission for Africa (ECA) decided at its seventeenth meeting held in Addis Ababa, in May 1991, to convene the third session of the African Population Conference (APC 3) and accepted the invitation by the Government of Senegal to host it. The Ministers also established a Preparatory Committee/or the Conference, under the chairmanship of the United Nations Under-Secretary-General and ECA Executive Secretary, inter alia, to propose the theme and the agenda of the Conference. APC3 has known real success in view of its objectives. Experts and ministers reviewed experiences of the implementation of the Kilimanjaro Programme of Action on Population and Sustained Development ill Africa (KPA) adopted in 1984 in Arusha by APC. 2. They reaffirmed the continued validity of KPA as a framework for African development. Lessons were drawn for a better implementation of these programmes. The present publication on the proceedings of the Conference is in three volumes. Volume I is in four parts: part I gives useful information on the organization of the Conference and some feedback on the Declaration. It contains reports of proceedings. The report of the meeting of experts, the list of participants, and the Dakar/Ngor Declaration as adopted by APC. 3 and endorsed by the Economic Commission for Africa at its twenty-eighth session (Addis Ababa, 3-6 May 1993).
Citation
"United Nations. Economic Commission for Africa (1994). Third African population conference: report of the conference and related activities. UN. ECA African Population Conference, Meeting of Experts (3rd : 1992, Dec. 11- 12 : Dakar, Senegal). Addis Ababa :. © UN. ECA,. http://hdl.handle.net/10855/5437"
Conference
UN. ECA African Population Conference, Meeting of Experts (3rd : 1992, Dec. 11- 12 : Dakar, Senegal)
Related items
Showing items related by title, author, creator and subject.
Levels, patterns, and implications of fertility in Africa

United Nations. Economic and Social Council; United Nations. Economic Commission for Africa

"United Nations. Economic and Social Council; United Nations. Economic Commission for Africa (1972-10). Levels, patterns, and implications of fertility in Africa. UN. ECA Working Group of Fertility levels and differentials in Africa and the prospects for the future(1972: Dec. 18 - 22 :Addis Ababa, Ethiopia). Addis Ababa :. © UN. ECA,. http://hdl.handle.net/10855/11148"

Third African population conference: conference papers

United Nations Population Fund; Organization of African Unity; African Development Bank; Government of the Republic of Senegal; United Nations. Economic Commission for Africa African Center for Statistics

"United Nations Population Fund; Organization of African Unity; African Development Bank; Government of the Republic of Senegal; United Nations. Economic Commission for Africa African Center for Statistics (1994). Third African population conference: conference papers. Conference Papers :. vol.3, iii, 230 p.. UN. ECA African Population Conference, Meeting of Experts (3rd : 1992, Dec. 11- 12 : Dakar, Senegal). Addis Ababa :. © UN.E CA,. http://hdl.handle.net/10855/2063"