Country profile Zimbabwe 2017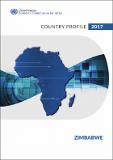 Date
2018-03
Author(s)/Corporate Author (s)
United Nations. Economic Commission for Africa;

Résumé
The Zimbabwe government is currently consulting stakeholders on a new national development blue print, the Zimbabwe agenda for sustainable socio-economic transformation (ZIMASSET II), for the period 2019–2020, to replace ZIMASSET I, for 2013–2018, which ends in December 2018. The new economic blue print will be anchored on the same four pillars as ZIMASSET I: food security and nutrition; social services and poverty eradication; infrastructure and utilities; and value addition and beneficiation. The focus of ZIMASSET II will be on investment, research and science and technology innovation systems which are key to enhancing productivity, efficiency, competitiveness, industrialization and transformation. ZIMASSET II will be aligned with the 2030 agenda for sustainable development and agenda 2063. The country's economic growth rate has been on a gradual decline since the peak of 2011, when real GDP growth was recorded at 11.9 per cent. The growth rate declined to 0.7 per cent in 2016, down from the 1.4 per cent registered in 2015.The economy is projected to register a positive growth in real GDP of 3.7 per cent in 2017, however, thanks to strong performance in the agriculture and mining sectors, which are expected to grow by 15.9 and 7.5 per cent respectively. The better than usual rains in the 2016/17 season, the support provided by the government through the command agriculture program and the presidential Input scheme and by the private sector through contract farming will further buttress the positive contribution of the agriculture sector to national economic growth.
Citation
"United Nations. Economic Commission for Africa (2018-03). Country profile Zimbabwe 2017. Addis Ababa. © UN. ECA. "
Related items
Showing items related by title, author, creator and subject.