Country profile Sierra Leone 2017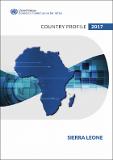 Published
2018-03
Author(s)/Corporate Author (s)
United Nations. Economic Commission for Africa;

Abstract
Between 2014 and 2016, Sierra Leone suffered the dual shock of the Ebola epidemic in 2014 and, in 2015, the closure of almost all iron ore mining, a main driving force of the economy since 2011. Recovery began in 2016: Ebola had been conquered and iron ore mining resumed. In 2016, GDP stood at 23.9 trillion Leones, the equivalent of US$ 3.8 billion at an annual average exchange rate in 2016 of 6,291.72 Leones per US$. Inflationary pressure and a substantial depreciation of the Leone in 2016, which continued in 2017, pose a threat to the economy and have a direct impact on fiscal stability. This country profile looks at key issues of Sierra Leone's Agenda for Prosperity 2013–2018, such as the structural composition of the economy , the role of natural resources , human development , labor and employment and gender and can therefore contribute to assessing whether or not the objectives of the agenda can be achieved in time.
Citation
"United Nations. Economic Commission for Africa (2018-03). Country profile Sierra Leone 2017. Addis Ababa. © UN. ECA. "
Related items
Showing items related by title, author, creator and subject.