Country profile Lesotho 2017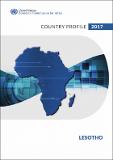 Published
2018-03
Author(s)/Corporate Author (s)
United Nations. Economic Commission for Africa;

Abstract
The most recent national strategic development plan for Lesotho for the period 2012–2013 to 2016–2017 serves as the country's growth and development strategic framework. The slogan, "Towards an accelerated and sustainable economic and social transformation", together with the strategic development plan, guide the Government of Lesotho in implementing its National Vision 2020. The goals of the national strategic development plan include: fast economic growth, which is widely distributed to create employment; the development of key infrastructure; the improvement of health; the reversal of environmental degradation; adaptation to climate change; and the promotion of peace, democratic governance and effective institutions. Where economic performance is concerned, the real GDP growth of Lesotho has been weak and volatile over the recent years, averaging 4.1 per cent during the period 2011–2015. In 2015, the growth rate was 1.6 per cent and by 2016–2017, had risen slightly to 2.1 per cent. In view of gender inequality and the need for women's empowerment, the manufacturing sector has long been identified as a tool for economic growth and obtaining the necessary revenues for social development and the empowerment of women. This includes sustainable economic and social transformation, as emphasized in the national strategic development plan-and structural transformation of the economy, as benefits of the industry spill over to the rest of the economy.
Citation
"United Nations. Economic Commission for Africa (2018-03). Country profile Lesotho 2017. Addis Ababa. © UN. ECA. "
Related items
Showing items related by title, author, creator and subject.