The African continental free trade area (AfCFTA): towards the finalization of modalities on goods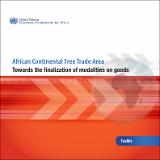 Published
2018-06
Author(s)/Corporate Author (s)
United Nations. Economic Commission for Africa. Regional Integration and Trade Division. African Trade Policy Center;

Abstract
African Union (AU) member states have agreed to remove 90% of their tariffs on goods over a period of between 5 and 15 years, depending on whether a country is classified as developing or least developed with special and differentiated treatment for a group of 7 countries , namely Djibouti, Ethiopia, Madagascar, Malawi, Sudan, Zambia and Zimbabwe. However, it has not yet been determined whether the 90% of tariffs that is to be completely liberalized relates to the percentage of total product lines or to the share in the country's total value of imported products. Moreover, there are uncertainties regarding how the remaining 10% of tariffs will be treated. It is unclear whether they will all be liberalized over longer periods of time or if some of them will actually be excluded from trade liberalization. These product lines can be referred to as sensitive or excluded, depending on whether the corresponding tariffs are to be reduced/eliminated or untouched, respectively. The present note aims to provide a guide for African policy makers and negotiators on how they could possibly resolve the above mentioned issues that remain to be addressed under the AfCFTA negotiations in relation to the modalities on goods, with a view towards bringing this aspect of the negotiations to a successful conclusion.
Citation
"United Nations. Economic Commission for Africa. Regional Integration and Trade Division. African Trade Policy Center (2018-06). The African continental free trade area (AfCFTA): towards the finalization of modalities on goods. Addis Ababa. © UN. ECA. "
Related items
Showing items related by title, author, creator and subject.