Deepening Africa India trade and investment partnership: a joint report by the African Trade Policy Center and Confederation of Indian Industry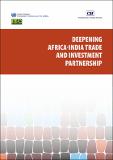 Published
2018
Author(s)/Corporate Author (s)
United Nations. Economic Commission for Africa. Regional Integration and Trade Division. African Trade Policy Center;

Abstract
Africa and India are increasingly becoming more prominent partners in each other's trade with significant growth in the market shares of their respective imports and exports. The advent of globalization and increased trade integration has strengthened trade between the two partners. There is recognition on both sides of the importance of the other as a market and as a long-term trade partner, especially with regard to global value chains. In the present report, the effects of mega-regional trade agreements, particularly the Regional Comprehensive Economic Partnership (RCEP) a proposed free trade agreement involving India on Africa-India trade relations, are examined. There is a legitimate concern about market loss and trade diversion. RCEP, is expected to erode preferences and increase competition for African countries in the Indian market, which in turn, could undermine the benefits for them stemming from the duty free tariff preference scheme. The report also contains three case studies on the following topics: the potential for cooperation in agriculture in Zambia; the need for reform in the telecom sector in Africa, discussing the case of Airtel; and the importance of building basic infrastructure as seen through the experience of Kirloskar in Africa. Based on the case studies, some general and specific conclusions have been reached. Foremost is the recognition that addressing the basic infrastructural lacuna is necessary in order to realize the true potential of Africa-India trade.
Citation
"United Nations. Economic Commission for Africa. Regional Integration and Trade Division. African Trade Policy Center (2018). Deepening Africa India trade and investment partnership: a joint report by the African Trade Policy Center and Confederation of Indian Industry. Addis Ababa,. © UN. ECA. https://hdl.handle.net/10855/24293"
Serial Title
Africa Trade Policy Center(ATPC)
Related items
Showing items related by title, author, creator and subject.