Promoting FinTech start-ups in Africa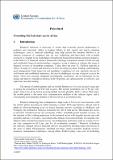 Published
2018
Author(s)/Corporate Author (s)
United Nations. Economic Commission for Africa;

Abstract
FinTech is an industry composed of companies that use new technology and innovation with available resources to compete in the marketplace of traditional financial institutions and intermediaries, in the delivery of financial services. Financial technology companies consist of both start-ups and established financial and technology companies trying to replace or enhance the usage of financial services of incumbent companies. Today, there are over 301 FinTech start-ups in Africa. FinTech plays a key role in facilitating access to financial services and allowing banks to grant and monitor microloans easily and quickly while reducing operational costs. To this end, key policy issues are emerging from promoting innovation to creating enabling regulatory environments to address competition and enhance capacity and skills both to accelerate growth and manage regulatory issues. The present policy brief is drawn from a recent study by the Economic Commission for Africa (ECA) on "Emerging issues in ICT in Africa", and provides key policy recommendations for consideration by African policymakers and decision makers.
Citation
"United Nations. Economic Commission for Africa (2018). Promoting FinTech start-ups in Africa. Addis Ababa. © UN. ECA. "
Serial Title
Policy brief
Related items
Showing items related by title, author, creator and subject.