Economic partnership agreement and African continental free trade area: what is at stake for Togo?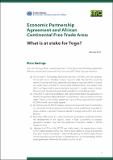 Published
2018-02
Author(s)/Corporate Author (s)
United Nations. Economic Commission for Africa. Regional Integration and Trade Division. African Trade Policy Center;

Abstract
Togo is a small economy with a population of some 8 million and a gross domestic product (GDP) of US$ 4.4 billion which relies heavily on natural resources. In 2016, its main exports were directed in decreasing order towards the United Arab Emirates, Benin, Burkina Faso, Nigeria, India, Cameroon and the EU, and consisted primarily of petroleum oils, cocoa and other agricultural products. Togo imports a wider range of products, from petroleum to manufactured goods in addition to various agricultural commodities, sourced primarily from the EU, China, India, the Republic of Korea, Ghana and the United States of America. Togo has a negative trade balance, which has considerably widened over the last decade with imports increasing by over 70 per cent, while exports have fallen by some 18 per cent over that period. The purpose of the present brief is to present key findings of a quantitative assessment looking at the expected impacts of the EPA on Togo a member of ECOWAS from a trade perspective. The analysis also examines how the establishment of the AfCFTA and the adoption of trade facilitation measures are anticipated to influence trade and income for Togo.
Citation
"United Nations. Economic Commission for Africa. Regional Integration and Trade Division. African Trade Policy Center (2018-02). Economic partnership agreement and African continental free trade area: what is at stake for Togo?. Addis Ababa. © UN. ECA. "
Collections