An assessment of agricultural sector policies and climate change in Kenya: Nexus between climate change related policies, research and practice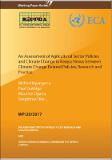 Published
2017
Author(s)/Corporate Author (s)
Nyangena, Wilfred;
Guthiga, Paul;
Ogada, Maurice;
Sikei, Geophrey;
United Nations. Economic Commission for Africa;

Abstract
This report summarizes the findings of a recent study that focused on the links between agricultural research and climate change as documented in the policy arena in Kenya. The overall objective of the study was to assess the extent to which the agricultural sector policy integrates with climate-related agricultural research to influence agricultural practices in Kenya. Assessment also focused on the effectiveness of policy to mobilize resources for both domestic as well as resources available under various international climate financing. This report traced the role of the agricultural sector both at the macro and micro level, and reviewed climate change policies in the country and how they specifically related to the agricultural sector and the extent to which current research agenda in the agricultural sector incorporated the challenges posed by climate change and climate variability. The report also reviewed the extent to which agricultural policies in Kenya were informed by climate change related research and vice versa and consequently the extent to which these policies influenced practice on the ground. Finally, the report addressed the implications of the findings for the future and attainment of the goals of low carbon climate resilient agriculture.
Citation
"Nyangena, Wilfred; Guthiga, Paul; Ogada, Maurice; Sikei, Geophrey; United Nations. Economic Commission for Africa (2017). An assessment of agricultural sector policies and climate change in Kenya: Nexus between climate change related policies, research and practice. KIPPRA Working Paper. No. 20, xii, 42 p.. Addis Ababa. © UN. ECA. https://hdl.handle.net/10855/24208"
Serial Title
KIPPRA Working Paper
Related items
Showing items related by title, author, creator and subject.