Development and analysis of climatological baseline and climate change scenarios for the Economic Community of West African States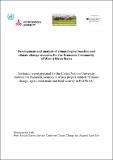 Published
2017-11
Author(s)/Corporate Author (s)
United Nations. Economic Commission for Africa;

Abstract
Climate change poses a major threat to West Africa in general and to the countries of the Community of West African States (ECOWAS) countries in particular. Agriculture, a key economic sector that supports nearly 60 per cent of those countries' populations, is especially vulnerable to such change. the United Nations University for Natural Resources in Africa, in collaboration with the African Climate Policy Centre at the Economic Commission for Africa (ECA), is implementing a two-year research project entitled "Climate change, agricultural trade and food security in ECOWAS". The project is aimed at assessing whether agricultural production systems and trade policies in ECOWAS can be adjusted in order to alleviate the impact of climate change on food security and identifying ways to promote sustainable development in the region. This report provides an overview of the methodology, tools and data generated in that regard. For illustrative purposes, it also provides a consideration of historical simulations, an assessment of the projected climate change scenarios for the late twenty-first century and a discussion of potential challenges that could impede agricultural development and undermine food security in ECOWAS countries.
Citation
"United Nations. Economic Commission for Africa (2017-11). Development and analysis of climatological baseline and climate change scenarios for the Economic Community of West African States. Addis Ababa. © UN. ECA. "
Collections
Related items
Showing items related by title, author, creator and subject.
Tunisie : le développement de l'industrie pétrolière

Nations Unies. Commission Economique pour l'Afrique; Nations Unies. Conseil Economique et Social

"Nations Unies. Commission Economique pour l'Afrique; Nations Unies. Conseil Economique et Social (1973-09). Tunisie : le développement de l'industrie pétrolière. NU. CEA Conférence Régionale sur l'industrie pétrolière et les besoins de formation dans le domaine des hydrocarbures (1974, fév. 2 - 12 : Tripoli, Jamahiriya Arabe Libyenne). Addis Ababa:. © UN. ECA. http://hdl.handle.net/10855/12490"

Africa Mining Vision

United Nations. Economic Commission for Africa; African Union Commission

"United Nations. Economic Commission for Africa; African Union Commission (2009-02). Africa Mining Vision. Addis Ababa. © UN. ECA. "