Country profile Gambia 2016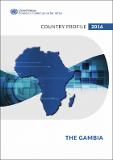 Published
2017-03
Author(s)/Corporate Author (s)
United Nations. Economic Commission for Africa;

Abstract
The Gambia has achieved positive but highly volatile economic growth in recent years. Annual real GDP growth averaged 3.1 per cent between 2005 and 2015, resulting in an overall GDP of 39.9 billion dalasi ($938.8 million) in 2015. This translates to a GDP per capita of $476 in 2015. Agriculture and services are the most important sectors and employ the majority of the workforce. Being highly dependent on rainfall, crop yield is subject to frequent variations, which directly affect the economy as a whole. Despite these difficulties, the Gambia has made advances in poverty reduction. Overall, poverty decreased from 58.0 per cent in 2003 to 39.6 per cent in 2010, when the measure of $1 per day was used. The country's population, of almost 2 million, is young and has been growing by more than 3 per cent in the last decade. Poverty, low educational levels and poor health outcomes, as well as high population growth, are all associated with rural agriculture. This implies a key role for agriculture in improving the livelihoods of the poor. The Gambia has a history of developing sound agricultural policies; however, executing those programs is a daunting challenge. The final section of this report contains an analysis of the Gambian agricultural policy landscape and a discussion of its different development plans.
Citation
"United Nations. Economic Commission for Africa (2017-03). Country profile Gambia 2016. Addis Ababa:. © UN. ECA,. "
Related items
Showing items related by title, author, creator and subject.
Informality and inequality in Africa: exploring the linkages

United Nations. Economic and Social Council; United Nations. Economic Commission for Africa

"United Nations. Economic and Social Council; United Nations. Economic Commission for Africa (2017-09). Informality and inequality in Africa: exploring the linkages. UN. ECA Committee on Gender and Social Development(2nd session:2017, Oct. 11 - 12: Addis Ababa, Ethiopia). Addis Ababa. © UN. ECA. "

Objectifs stratégiques pour le développement socio-économique de l'Afrique dans les années 90

Nations Unies. Commission Economique pour l'Afrique; Nations Unies. Conseil Economique et Social

"Nations Unies. Commission Economique pour l'Afrique; Nations Unies. Conseil Economique et Social (1993-02). Objectifs stratégiques pour le développement socio-économique de l'Afrique dans les années 90. NU. CEA Réunion du Comité Technique Préparatoire Plénier (14ème : 1993, avr. 26 - 30 Addis Abeba, Ethiopie).; NU. CEA Conférence des ministres (19ème : 1993, mai 03 - 06 : Addis Abeba, Ethiopie).; NU. CEA Réunion de la conférence des ministres (20ème session de la commission : 1993, mai 03 - 06 : Addis Abeba, Ethiopie). Addis Abeba :. © NU. CEA,. http://hdl.handle.net/10855/6254"