Country profile Malawi 2016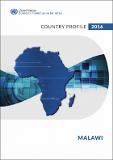 Published
2017-03
Author(s)/Corporate Author (s)
United Nations. Economic Commission for Africa;

Abstract
The gross domestic product of Malawi has been fluctuating since 2010.The GDP growth rate of 3.1 per cent in Malawi in 2015 was below the averages of the SADC sub-region and African region of 3.9 and 3.6 percent, respectively. Compared with 2014, economic growth slowed significantly from 5.7 per cent. This can be attributed to adverse weather conditions, which disrupted the 2015 harvest, and, in turn, resulted in a contraction in growth of the agriculture sector to 1.6 per cent. In 2016, the economy is projected to have grown by 2.7 per cent, which is above the projected 2.0 per cent average real GDP growth of SADC member countries. Agriculture is the key sector in the economy, contributing an average of 30 per cent to GDP. From 2014 to 2015, the country's GDP growth rate declined significantly from 5.7 per cent to 3.1 per cent because of adverse weather and climatic conditions, which disrupted the harvests of the country's major food and export crops. GDP is projected to have continued to decline to 2.7 per cent in 2016. However, it is expected to rebound to 4.5 per cent in 2017, supported by better weather conditions and the expected recovery in the agricultural sector, particularly in the food crops sub-sector.
Citation
"United Nations. Economic Commission for Africa (2017-03). Country profile Malawi 2016. Addis Ababa:. © UN. ECA,. "
Related items
Showing items related by title, author, creator and subject.
Objectifs stratégiques pour le développement socio-économique de l'Afrique dans les années 90

Nations Unies. Commission Economique pour l'Afrique; Nations Unies. Conseil Economique et Social

"Nations Unies. Commission Economique pour l'Afrique; Nations Unies. Conseil Economique et Social (1993-02). Objectifs stratégiques pour le développement socio-économique de l'Afrique dans les années 90. NU. CEA Réunion du Comité Technique Préparatoire Plénier (14ème : 1993, avr. 26 - 30 Addis Abeba, Ethiopie).; NU. CEA Conférence des ministres (19ème : 1993, mai 03 - 06 : Addis Abeba, Ethiopie).; NU. CEA Réunion de la conférence des ministres (20ème session de la commission : 1993, mai 03 - 06 : Addis Abeba, Ethiopie). Addis Abeba :. © NU. CEA,. http://hdl.handle.net/10855/6254"

Informality and inequality in Africa: exploring the linkages

United Nations. Economic and Social Council; United Nations. Economic Commission for Africa

"United Nations. Economic and Social Council; United Nations. Economic Commission for Africa (2017-09). Informality and inequality in Africa: exploring the linkages. UN. ECA Committee on Gender and Social Development(2nd session:2017, Oct. 11 - 12: Addis Ababa, Ethiopia). Addis Ababa. © UN. ECA. "