Country profile Madagascar 2016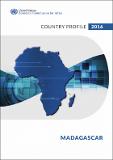 Published
2017-03
Author(s)/Corporate Author (s)
United Nations. Economic Commission for Africa;

Abstract
The Malagasy economy is pursuing a phase of timid recovery following a prolonged political crisis (2009-2013) which perturbed the economy and whose repercussions may still be felt in Madagascar society. Growth, estimated at 4.1 per cent in 2016, against 3.1 per cent in 2015, looks like picking up further in 2017 and continuing to rise in coming years, buoyed by diversified exports, renewed investments, and a relatively dynamic industrial sector. At the beginning of the 1990s, Madagascar was one of the front-runners among African countries endeavoring to adopt an ambitious industrial policy based on tax incentives and free zones. It was one of the few countries that managed to implement such a policy successfully, which led to the emergence of an export-oriented, job-creating garment industry. Although this sector was sorely tried by the 2002 and 2009-2013 crises, it continues to be a heavyweight in exports, urban employment and investment. It is also a sector undergoing change, which attracts new investors and activities. To what extent can it be an integral part of the new ambition of the Government of Madagascar for inclusive and shared growth? What prospects are there for the Malagasy industrial sector, given the requirement of environmental sustainability in a country with one of the world's highest levels of vulnerability to climate change? That is the purpose of the thematic analysis provided in this country profile.
Citation
"United Nations. Economic Commission for Africa (2017-03). Country profile Madagascar 2016. Addis Ababa:. © UN. ECA,. "
Related items
Showing items related by title, author, creator and subject.
Informality and inequality in Africa: exploring the linkages

United Nations. Economic and Social Council; United Nations. Economic Commission for Africa

"United Nations. Economic and Social Council; United Nations. Economic Commission for Africa (2017-09). Informality and inequality in Africa: exploring the linkages. UN. ECA Committee on Gender and Social Development(2nd session:2017, Oct. 11 - 12: Addis Ababa, Ethiopia). Addis Ababa. © UN. ECA. "

Objectifs stratégiques pour le développement socio-économique de l'Afrique dans les années 90

Nations Unies. Commission Economique pour l'Afrique; Nations Unies. Conseil Economique et Social

"Nations Unies. Commission Economique pour l'Afrique; Nations Unies. Conseil Economique et Social (1993-02). Objectifs stratégiques pour le développement socio-économique de l'Afrique dans les années 90. NU. CEA Réunion du Comité Technique Préparatoire Plénier (14ème : 1993, avr. 26 - 30 Addis Abeba, Ethiopie).; NU. CEA Conférence des ministres (19ème : 1993, mai 03 - 06 : Addis Abeba, Ethiopie).; NU. CEA Réunion de la conférence des ministres (20ème session de la commission : 1993, mai 03 - 06 : Addis Abeba, Ethiopie). Addis Abeba :. © NU. CEA,. http://hdl.handle.net/10855/6254"