Country profile Mauritania 2016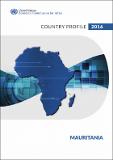 Published
2017-03
Author(s)/Corporate Author (s)
United Nations. Economic Commission for Africa;

Abstract
Mauritania's economy is not well diversified. It is centered on mining (iron, copper and gold), petroleum and fisheries, which account for the bulk of the country's exports. Growth in 2015 was 3.1 per cent, below the record level of 6.1 per cent in 2013 and 5.6 per cent in 2014. That is mainly due to the primary and tertiary sectors which accounted for the equivalent of 68 per cent of GDP in 2015. The industrial sector is rooted mainly in the informal economy and is characterized by weak development of processing and manufacturing activities that might create added value and long-term employment. A new development strategy called the "Strategy for Accelerated Growth and Shared Prosperity" (SCAPP) for the period 2016 to 2030 is now being finalized. It aims to achieve continuous growth of at least 7 per cent a year on average that is increasingly green and inclusive through diversification and by fostering activities that generate high value added and require a large workforce such as fisheries, livestock-raising and crop-growing.
Citation
"United Nations. Economic Commission for Africa (2017-03). Country profile Mauritania 2016. Addis Ababa:. © UN. ECA,. "
Related items
Showing items related by title, author, creator and subject.
Objectifs stratégiques pour le développement socio-économique de l'Afrique dans les années 90

Nations Unies. Commission Economique pour l'Afrique; Nations Unies. Conseil Economique et Social

"Nations Unies. Commission Economique pour l'Afrique; Nations Unies. Conseil Economique et Social (1993-02). Objectifs stratégiques pour le développement socio-économique de l'Afrique dans les années 90. NU. CEA Réunion du Comité Technique Préparatoire Plénier (14ème : 1993, avr. 26 - 30 Addis Abeba, Ethiopie).; NU. CEA Conférence des ministres (19ème : 1993, mai 03 - 06 : Addis Abeba, Ethiopie).; NU. CEA Réunion de la conférence des ministres (20ème session de la commission : 1993, mai 03 - 06 : Addis Abeba, Ethiopie). Addis Abeba :. © NU. CEA,. http://hdl.handle.net/10855/6254"

Informality and inequality in Africa: exploring the linkages

United Nations. Economic and Social Council; United Nations. Economic Commission for Africa

"United Nations. Economic and Social Council; United Nations. Economic Commission for Africa (2017-09). Informality and inequality in Africa: exploring the linkages. UN. ECA Committee on Gender and Social Development(2nd session:2017, Oct. 11 - 12: Addis Ababa, Ethiopia). Addis Ababa. © UN. ECA. "