Country profile Equatorial Guinea 2016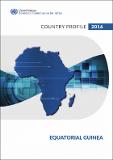 Published
2017-03
Author(s)/Corporate Author (s)
United Nations. Economic Commission for Africa;

Abstract
The discovery of substantial oil and gas deposits in the 1990s, Equatorial Guinea has experienced the strongest economic growth among African countries in recent years. That discovery was made at a time when oil prices were rocketing, resulting in an average increase in the country's real GDP of around 27.8 per cent per year between 1993 and 2012. However, owing to the structure of its GDP, the greatest share of which is accounted for by export-led sectors such as the crude oil and natural gas production sectors, the economy of Equatorial Guinea is very sensitive to fluctuations in global markets. The country has therefore been facing a recession since 2013 on account of the decline in hydrocarbon production, combined with the fall in international prices. real GDP shrank by 8.3 per cent in 2015, compared with a decrease of 0.7 per cent in 2014. The latest forecasts indicate a decrease of 8.2 per cent in 2016. Equatorial Guinea is currently the leading oil producer in Central Africa. The development of the hydrocarbon sector has been accompanied by a decline in agriculture, fishing and forestry, which were the main sectors driving the economy before oil was discovered. Effective use of oil wealth to diversify sources of economic growth is now the main challenge the country must overcome if it is to meet its target of becoming an emerging market by 2020, as set out in the National Economic and Social Development Plan (NESDP) for 2008-2020.
Citation
"United Nations. Economic Commission for Africa (2017-03). Country profile Equatorial Guinea 2016. Addis Ababa:. © UN. ECA,. "
Related items
Showing items related by title, author, creator and subject.
Objectifs stratégiques pour le développement socio-économique de l'Afrique dans les années 90

Nations Unies. Commission Economique pour l'Afrique; Nations Unies. Conseil Economique et Social

"Nations Unies. Commission Economique pour l'Afrique; Nations Unies. Conseil Economique et Social (1993-02). Objectifs stratégiques pour le développement socio-économique de l'Afrique dans les années 90. NU. CEA Réunion du Comité Technique Préparatoire Plénier (14ème : 1993, avr. 26 - 30 Addis Abeba, Ethiopie).; NU. CEA Conférence des ministres (19ème : 1993, mai 03 - 06 : Addis Abeba, Ethiopie).; NU. CEA Réunion de la conférence des ministres (20ème session de la commission : 1993, mai 03 - 06 : Addis Abeba, Ethiopie). Addis Abeba :. © NU. CEA,. http://hdl.handle.net/10855/6254"

Informality and inequality in Africa: exploring the linkages

United Nations. Economic and Social Council; United Nations. Economic Commission for Africa

"United Nations. Economic and Social Council; United Nations. Economic Commission for Africa (2017-09). Informality and inequality in Africa: exploring the linkages. UN. ECA Committee on Gender and Social Development(2nd session:2017, Oct. 11 - 12: Addis Ababa, Ethiopia). Addis Ababa. © UN. ECA. "